Wasps: Ex-director Christopher Holland is named owner of Coventry-based club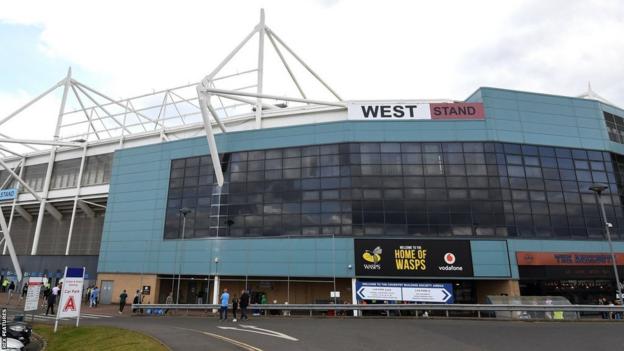 Wasps have announced that Christopher Holland, formerly non-executive director, has become the new owner of the Coventry-based club.
The announcement comes on the day the Rugby Football Union (RFU) gave clearance to the relegated ex-premiership club play again next season in the championship.
Wasps met the RFU requirements, although Worcester was rejected.
Holland's purchase of Wasps was on behalf of HALO22 Limited.
The club said in a statement: "HALO22 Limited, a company owned by Christopher Holland, has recently completed the purchase of the intellectual property, history and memorabilia of Wasps RFC, a transaction in which club administration exited."
Wasps has named Andy Scott, former CEO of 188Bet and interim CEO of the Wasps Legends Charitable Foundation, as their new CEO – with support from former players including former Scotland winger Kenny Logan and Peter Scrivener.
Holland, who first joined the old Wasps board as a non-executive director in 2017, was the sole director of the Henley-in-Arden training ground before it went into administration.
"As the new administrator of Wasps, I fully appreciate the responsibility I have towards its supporters, history and legacy. I don't underestimate that duty," he said.
Holland has over 30 years of law enforcement and risk management experience, having previously worked with the Department of Defense, Marks & Spencer, Sainsbury's and B&Q.
Scott added: "We are proud and excited to secure the future of this great club.
"Wasps is a famous and well-respected name in the history of English and European rugby and while this is a new venture and a fresh start, it is built on essentially the same values ​​that brought success and respect to the club in its heyday. "
wasps had Debts totaling £95m when they went into administration in October, but the offer from the consortium including members of the club's Legends Group was accepted at the end of the month.
It has since been reviewed by the RFU's Financial Viability Group.
The Wasps offer does not include the women's team. They are a separate club and will continue to play as part of amateur club Wasps FC.
It also doesn't include the stadium that has been the home of Wasps for eight years.
The Coventry Building Society Arena was bought by Frasers Group of former Newcastle United owner Mike Ashley for £17m in November.
Originally a London club based in Sudbury, Wasps shared the Queens Park Rangers home on Loftus Road, Shepherds Bush from 1996 to 2002 when they moved to Wycombe Wanderers' Adams Park for 12 years before they moved in December 2014 moved to Coventry.
The four-time Premiership and two-time European Cup winners were founding members when the first national rugby union league was formed in 1987 – and when the professional era began in 1996 they became the first champions.