West duo Craig and Amy to the fore at U17 level in Perth
Craig Shennan and Amy Teasdale en route to Perth U17 Inter-District title win (Photo by Bobby Gavin)
Results (preliminary)
Giffnock North athlete Craig Shennan is no stranger to a cross country title in Scotland and he added his first at U17 level in Perth.
Amy Teasdalemeanwhile, the U17 women's inter-district gold clinched just eight days after winning 30900m indoor gold and just weeks after working with a new coach.
The U17 races were over 6km and linked to the U20 Cross Challenge event.
Shennan, a Falkirk National Champion at U13 and U15 levels, won both Cross Challenge and Inter-District Gold on a good run as he led the East Tear Marshall and those of the West Oliver Patton in our inter-district panel.
"It's been fun racing and I'm really happy with it," smiled Craig.
"I ran the Cross Challenge in Milton Keynes in November and tested positive for Covid on Monday after we returned. That pulled me out of training for a moment.
"Today I got spiked about 100m into the first corner and I could feel it. But after a while I just ignored it and moved on.
"I love cross-country skiing and this is my first national victory in the U17 age group."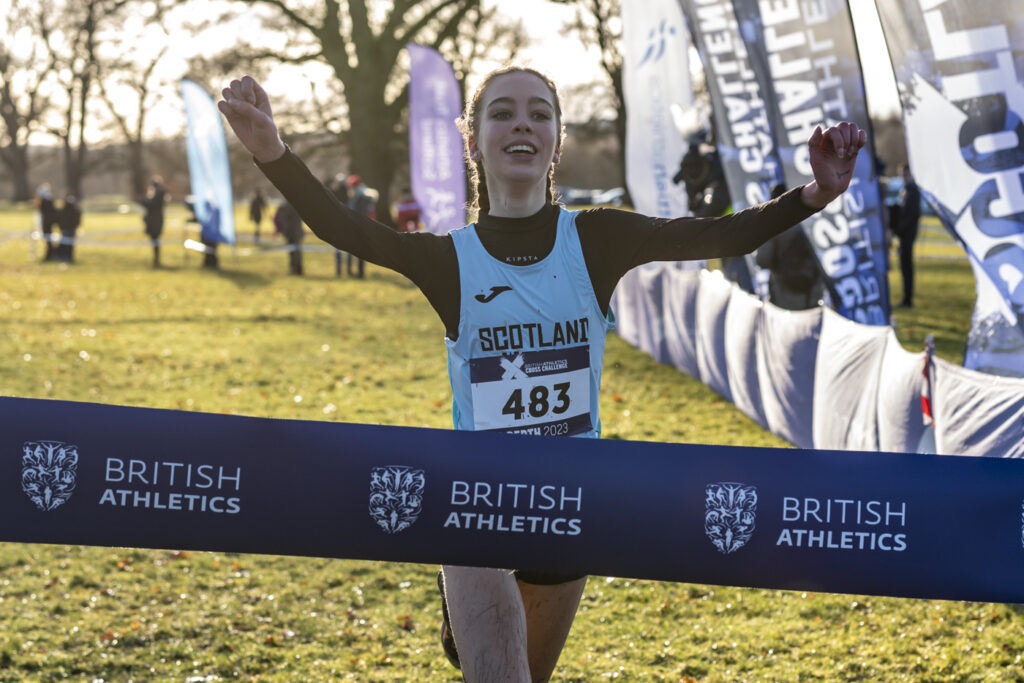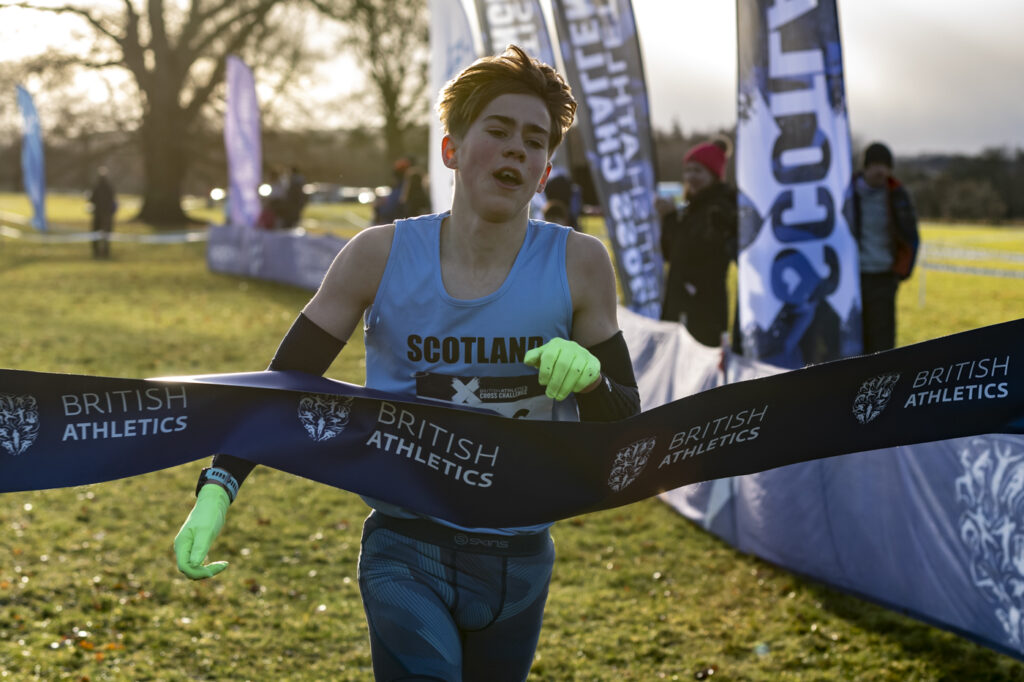 West duo Zara Redmond and Tristan Robin won victories at the U15s as they clinched both cross-challenge and inter-district titles (Photos by Bobby Gavin)
Amy placed second in the Cross Challenge after English athlete Zoe Gilbody. Millie McClelland Brooks (West) followed the Kilbarchan AAC athlete home as runners-up in the inter-districts Caitlyn Heggie Landing another individual medal for the North in third.
"It's the longest race I've ever had, it was over 6km and obviously it's a bit different than 3000m indoors," laughed Amy.
"It was really wet and muddy today and a tough run when you hit the hilly sections. I enjoyed it and I'm collaborating Sarah Dempsey now as my coach and it's been good.
"I really got running during the Covid lockdowns. I just couldn't sit around the house all the time and felt like I had to go out the door.
"I used to run almost every day but since then I've joined the club (Kilbarchan AAC) and my training is more structured now. I'm already looking forward to Falkirk."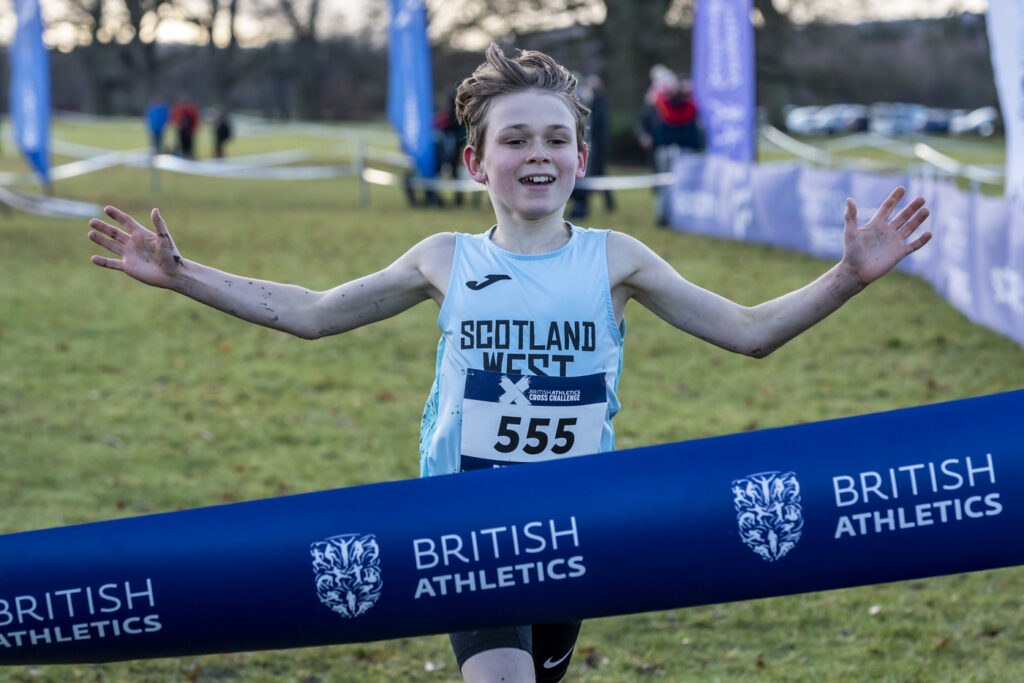 Rhuairdh Laing
At the U13 girls' race Cery Wright (East) won both Inter District and British Cross Challenge races.
with Penelope Boyle (Leven Valley) 2nd in the British Cross Challenge where Erin Burnett (West) was 2nd in the Inter District and 3rd in the British Cross.
The completion of the inter-district panel was Lucy Conell on the third place. East took the team win, West finished second and North third.
It was a clean win for the West District in the U13 boys race, making the podiums for British Cross and Inter Districts identical – Rhuairdh Laing took the win, with Louie Muir in the second u Cameron Nugent third party
Unsurprisingly, West took the team win, followed by East and North in third.
The U15 girls' race provided us with one of the more complex results of the day, with high-ranking runners from a considerable geographical spread.
Young Scot Zara Redmond (West) won both British Cross and Inter District titles. The British podium was completed Katie Pye (Aldershot, Farnham and District) on the second and Eimear Cooney (Athletic Association of Ireland) in third place.
The inter-district race saw Lois MacRae (North) take second place with them Freya Campbell (West) third. The team honors went to the East, with West finishing second and North third.
Tristan Robin took both titles in the U15 boys race with another West District triple header – Kalum Dick second and James Alexander third party
That, of course, gave the West District the team win, with East second and North third. At the British Cross race Jon Pepin (Southampton AC) in second place (which moved Calum up to third on that podium).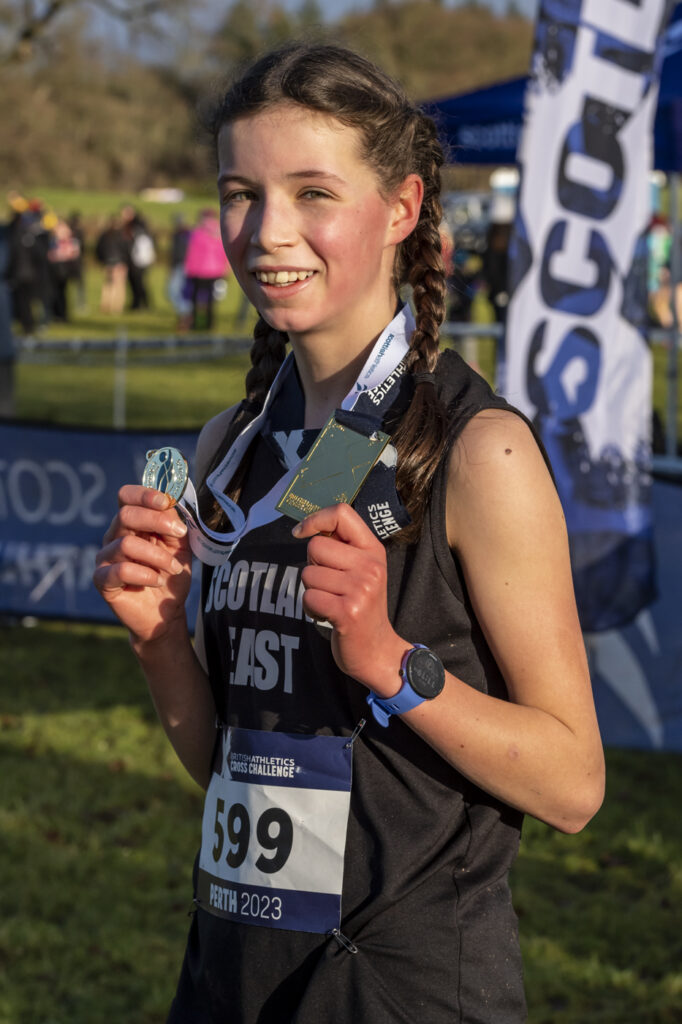 Cery Wright
+++
tags:
British Cross Challenge, Perth, Scone Palace