Alouettes coaching hunt: Experience, rapport with GM might favour Maas
"We're more like brothers," the former CFL quarterback and Edmonton head coach says of his relationship with Als general manager Danny Maciocia.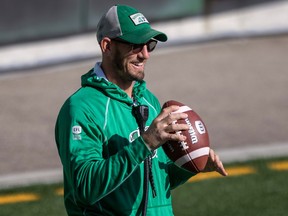 content of the article
Jason Maas appears to be the most qualified candidate to become the Alouettes' next head coach, but he said he's just one of five candidates for the position.
content of the article
Still, Maas has many factors that could influence general manager Danny Maciocia's decision. He is the CFL's only head coach and has known Maciocia for 20 years. When Maas was with Edmonton and the team played at Molson Stadium, he often visited Maciocia – then coach at the Université de Montréal – at his home.
"We're more like brothers," Maas told the Montreal Gazette from his home in Sherwood Park, Alta. "The relationship I have had with Danny over the years is very dear to me. I trusted him as a player when he had my position as coach and coordinator (in Edmonton). When he was the GM, we discussed contracts together. Working under someone I respect and admire, who was in my shoes as a head coach, that's positive. Danny has achieved everything in our league."
content of the article
The other candidates interviewed for the position are defensive coordinator Noel Thorpe, assistant head coach André Bolduc, special teams coordinator Byron Archambault and quarterbacks coach Anthony Calvillo. Maas said he had not been told if a second interview was forthcoming. Maciocia originally stated that he would like to have the head coach hired by Christmas.
"I think experience can be an important factor at times, but ultimately it's Danny's choice," Maas said. "He worked with the other candidates. They were in the building and had a successful year. If you know the people you work with and these are the people you interview, there are visions and things you might see doing.
content of the article
"I was the head coach in the league and I had a good record so I think I'm ticking a few boxes," Maas added, noting he was flattered to be part of the conversation and saying the others were worthy candidates. "There is a relationship, trust between the two. I was coordinator and head coach, a player. I have a good relationship with players and coaches, feel like a great communicator and a leader of men. I did it, showed it and have a story in the game. I have a strong feeling that I am a qualified candidate. I think I would do the job well but respect the people on the list and Danny's decision."
Maas, 47, spent 12 seasons as a CFL quarterback and had a brief stint with the Alss after a move in 2007. He was the Elks' head coach from 2016–19 and compiled a 39–33 record. While he only had one losing season – his last – Maas failed to lead Edmonton to a division title.
content of the article
In the coaching ranks, he worked with the quarterbacks in Toronto and was the offensive coordinator in Ottawa and Saskatchewan. The Roughriders fired him after that season after the team finished 6-12 and went on a seven-game losing streak.
Maas has one year left on contract, meaning he could stay home while being paid off by Saskatchewan. But he understands head coaching opportunities are rare in a nine-team league. Maas said he'd rather be head coach than be sidelined for a year and not be involved in the game, but didn't want to speculate on whether he'd be willing to go OK at Montreal under another head coach.
"Whatever the outcome, it will not affect our relationship," said Maas. "I'll be thrilled if I'm the guy (Maciocia) who decides. If not, I wish him well."
twitter.com/HerbZurkowsky1
Alouette's list of potential head coaches is reduced to five

"Great privilege" to be a finalist in the Alouette coach, says Archambault

Alouettes plans to have the next head coach by Christmas