Author Erin Lee releases third book, incorporates Haudenosaunee art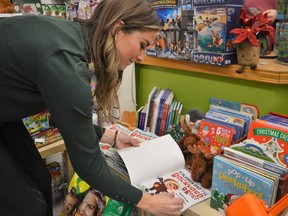 content of the article
Local author Erin Lee has published her third children's book: Benjamin and the backyard animal.
content of the article
Lee said she feels like she's "taken things to a whole new level" with her latest creation.
her first two books – Maggie the Magnificent, published in 2020, and Out of Season, published in 2021, were both storybooks. Benjamin and the Backyard Beast is a combined fairy tale and activity book at a whopping 70 pages.
The story follows a young boy, Benjamin, who lives here in the valley of the St. Lawrence River. He and his father set out on a cold winter's day to see a moose, and along the way encountered seven local animals and residents engaged in winter activities.
"There is an activity pack where they can learn all about the animals. There are comprehension questions, a seek and find game, and vocabulary," Lee said. "I actually learned a lot while doing research for this book. It took a year to get together. There was a huge team behind it."
content of the article
The inspiration for the story is based on real events that Lee experienced as a young girl with her father. She had certain images imprinted in her mind that aided her creative process as she wrote the book at the height of the pandemic.
"It's that memory that stands out so clearly in my mind. It's a special moment that I wanted to cherish," Lee said. "My father really inculcated a love of nature in us."
This was Lee's first book to focus on a place and its qualities. Since it's set in our region, she hired a team from Akwesasne to work in a land acknowledgment. She also collaborated with the Native North American Traveling College, which included a blurb about Haudenosaunee Mohawk culture. For every sale of a book on Lee's website, $1 from the purchase is donated to Akwesasne Freedom School (AFS). AFS provided some Mohawk language translations that are included in the book.
content of the article
Gosling's latest competition offers copies of Out of Season

Good timing for the Cornish author's latest children's book, Out of Season

Erin Lee wrote and illustrated Maggie the Magnificent
"We (also) hired a second illustrator from Akwesasne. Bruce Boots, he portrayed all the animals in the book…it's beautiful and inspired by the Haudenosaunee," she said.
Lee said she hopes the book will be used by teachers in local school boards.
"Hopefully this is just to give parents and teachers a starting point to start this dialogue about our own Canadian culture and about[Indigenous Peoples]that live here before us."
Lee's love for her hometown is evident in her book, she said.
"I think the St Lawrence River valley is so beautiful and is one of the best features of Cornwall. I think we should celebrate it and I want to honor those who lived before me and loved this country," she said.
content of the article
In addition to the book, which costs $20, Lee has partnered with local producers to incorporate special themed merchandise. A red plaid scrunchie from Bend & Snap and a hat from Peek-a-Boo can be purchased along with a stuffed moose and moose keychain. Lee said she thinks it's important to have additional elements to the book itself for children who learn tactilely.
Benjamin and the Backyard Beast is available for purchase on Lee's website www.erinleeauthor.com, on Amazon Prime, and in person at Kid's Korner. When purchasing from Lee's website there is an option to pick up in Long Sault and add a special personalized message.
For more information on Lee's work, visit her social media pages. Author Erin Lee.