Calgary author offers intrigue, romance with new novel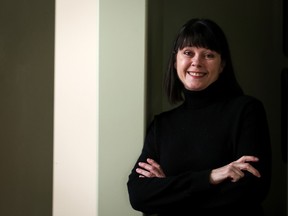 Reviews and recommendations are unbiased and products are independently selected. Postmedia may earn an affiliate commission from purchases made through links on this site.
content of the article
Halfway through author Lecia Cornwall's extensive research for her novel That Summer In Berlin, she stumbled across a snippet of the story that seemed brimming with literary possibilities.
content of the article
With the Nazis coming to power in Germany and the threat of another war looming, some members of the English aristocracy decided to do their part to avoid conflict. So they sent their debutantes to Germany, hoping to strengthen ties between the countries through their young, bright women. After all, what better way to ward off a war than to marry your daughter to a prominent German? At least that was the logic back then.
content of the article
"These were 18-year-old girls and they sent them there for a little cultural exchange and some continental polish, hoping they would intermarry; thinking that if they did, there couldn't possibly be another war with Germany because the upper classes were connected," Cornwall said in an interview with Postmedia from her home in Calgary. "I think that was the problem. The upper classes thought they had much more power against the war and Hitler than they did."
content of the article
It's part of the intriguing backdrop of That Summer In Berlin, which blends a love story with espionage and the complex geopolitics of pre-war Europe into a romantic spy story largely set during the 1936 Olympics. The novel's protagonist is a free-spirited photographer named Vivianne Alden, who is part of the English aristocracy but resents the restrictions and expectations placed on upper-class young women. She agrees to "accompany" her naïve stepsister Julia on a trip to Berlin to the Games. They stay with a prominent family of German aristocrats and Julia falls in love with her ruthless eldest son Otto, a true believer rising in the ranks of the Nazi regime.
Vivianne is not easily impressed by the spectacle of the Nazis busy covering up some of the more blatant nastiness of their activities on behalf of the tourists and debutantes flocking to Germany for the Olympics. She is also haunted by memories of her father, a World War I hero who was gassed at the front and died young. Dreaming of becoming a professional photographer, Vivianne lived a bit of a double life in England, anonymously supplying photos to newspapers chronicling the conflict between British workers and fascists. When she meets a young journalist named Tom Graham, she is recruited to covertly provide photographic evidence of Germany arming itself in preparation for war while posing as a holiday debutante. Tom is just a potential love interest for Vivianne. In Germany she also meets Felix, Otto's academic brother, who seems far less enthusiastic about Nazi ideology than his siblings. As is so often the case in romance novels, Vivianne finds both men irritating at first.
content of the article
"When I got the deal with Penguin (Random House), my editor said, 'Well, you have a very strong background in romance and we want you to keep that element in your stories because it works really well,'" he says Cornwall. "So most of it has been retained. There are all these characters that you absolutely fall in love with as a writer, and so does the protagonist, I guess. There were some male characters in this story that I liked, but I really liked Tom."
In the novel, Tom is the illegitimate son of a British aristocrat who is suspicious of upper-class customs. Cornwall says it was loosely based on Mathew Halton, the Pincher Creek-born foreign correspondent for the CBC during World War II.
"He went to Berlin and was very suspicious of what the Nazis were doing and tried to sound the alarm: 'No, that's not real. It's just pretend in front of the press and don't fall for it,'" she says. "He was one of the first people to do that and I found it fascinating."
content of the article
Ontario native Cornwall came to Calgary in 2004 and decided to try her hand at novel writing. She finally landed an agent in 2009 and published her first novel, Secrets of a Proper Countess, in 2011. Her debut, like the many novels that followed, is a historical romance. But Cornwall shifted focus with 2021's The Woman at the Front, a more informed story of a doctor on the frontlines of World War I.
She hopes to write a follow-up novel to That Summer in Berlin, based on the experiences of some of the same characters after the war.
"Romance is a very specific, rules-driven genre and you're very specific about what you can do, while historical fiction is a bit more open-ended," says Cornwall. "You don't have to have a couple together. (The female protagonist) can be a much stronger character and the story can take place in a larger time range with a bit more detail than in a historical romance."
content of the article
With That Summer in Berlin, Cornwall also explores several complex themes and delves deep into human nature and the nature of evil. How could seemingly normal people be drawn into the madness and hatred of Nazi ideology? Why were so many in Britain interested in placating Hitler?
"I imagine many people in Britain who were appeasers because they suffered from the First World War; They've been absolutely decimated," says Cornwall. "There were women who fought against (the war) because they had lost fathers and sons and husbands. Other people just didn't want the cost of a war or the chance it might fail. If you also look at the rise of the Nazis, they were completely devastated by World War I and in the 1930s they were one of the best industrial nations in the world, the most cosmopolitan, the most organized, the happiest. I think a lot of countries saw that and said, "Well, maybe there's something to it." I think that helped too."
That Summer in Berlin is now available from Berkley, an imprint of Penguin Random House.