Mother Nature's roller coaster barreling into Cornwall, Seaway Valley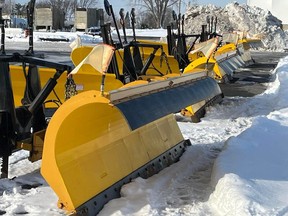 content of the article
Cornwall's department head for municipal works and its road warden say the town is ready for anything and everything Mother Nature throws at it later this week.
content of the article
"We're watching all of this closely," manager Shawn O'Brien said while consulting with Road Warden Kevin Duchesne on Thursday afternoon, as a potentially dangerous series of weather events began to impact Cornwall and the surrounding area.
O'Brien said full shifts of workers and all available equipment will be on duty by 7am on Saturday morning, Christmas Eve. At this point, some staff will be brought in as needed.
Even during Thursday's calm before the storm, crews were out to pre-wet some major roads and thoroughfares, including Pitt Street, Sydney Street, Vincent Massey Drive and the Boundary Road, as well as several bridge decks, preventing direct liquid application of magnesium chloride the bonding of asphalt with snow and freezing rain.
content of the article
South Nation Conservation issued a water safety statement Thursday noon, urging residents to "exercise extreme caution near rivers and bodies of water as forecast weather can rapidly increase river flow and cause slippery conditions." Being near open water is just one hazard. Driving on wet roads could pose the greatest hazard over the next few days, with rain levels of up to 25 millimeters expected by Friday afternoon, followed by around 10 to 20 centimeters of snow by evening.
Indeed, Cornwall and the surrounding area – and much of the continent – ​​has embarked on a pre-Christmas roller coaster ride from Mother Nature.
SDG OPP reports dozens of crashes in Friday Storm

Winter Storm Wallops Region, Cornwall declares major weather event
Thursday in the Seaway Valley started with cold temperatures early in the morning, then a midday warm-up to freezing but was expected to feel uncomfortable as strong gusts of wind were expected later in the day. There's also that rain and snow in the forecast, followed by overnight warming expected to hit 8C by late Friday morning.
content of the article
Conditions are forecast to ease into Saturday – Christmas Eve – with a potentially dangerous afternoon temperature drop, a flash freeze making for miserable driving conditions into Sunday's Christmas Day.
Environment Canada officially issued a winter storm warning for the region on Thursday morning, saying dangerous winter conditions are expected. It said a major weather system will move into eastern Ontario and western Quebec by Thursday evening and that "significant amounts of snowfall, very strong winds and blowing snow are expected."
Areas near the Saint Lawrence River will experience less snow as precipitation turns to rain. Freezing rain is possible for areas near the St. Lawrence River late Thursday evening and Friday morning. Strong winds with gusts of almost 70 kilometers per hour will accompany the system. Winds in combination with the snow ensure poor visibility to near zero during snowstorms.
content of the article
On Thursday afternoon, the Upper Canada District School Board announced the holidays would start a day earlier, a move echoed by other authorities across the region as they announced schools would close and classes would resume in the new year would.
SNC's Water Safety Statement is effective through December 28 at 5:00 p.m. or until an update is issued.
According to the US National Weather Service, it's all being caused by a strong arctic cold front that's been moving northwest-southeast across the continent. A developing low pressure system was forecast to strengthen over eastern Michigan through Thursday night and deepen record cold temperatures for the US Gulf Coast and eastern US through Friday.
How common is the cold? On Christmas Eve, the temperature in some northern Florida cities and even New Orleans in southern Louisiana barely rises above freezing, reaching just 3°C ​​in The Big Easy.