Michael Duff interview: Leaving Cheltenham, ambitions for Barnsley and aims for the future | Football News
"I'm not sure I had that much gray hair six months ago!"
Perhaps it was just three wins in their top seven after trying to bring in a club dismally relegated or the nearly four-week streak in October during which they failed to score.
Anyhow, it's not surprising that Michael Duff has felt tested at Barnsley so far. But now things are on the right track. Four consecutive victories since that fruitless run have seen them advance to the League One play-offs and awarded him Manager of the Month honors for November.
"It was a challenge," he says. "But a pleasant one. We're still in the works. But it feels like we're going in the right direction in terms of group coming together. The results have certainly helped and we are slowly making progress.
"We had a few bumps in the road and we've had a really tough time."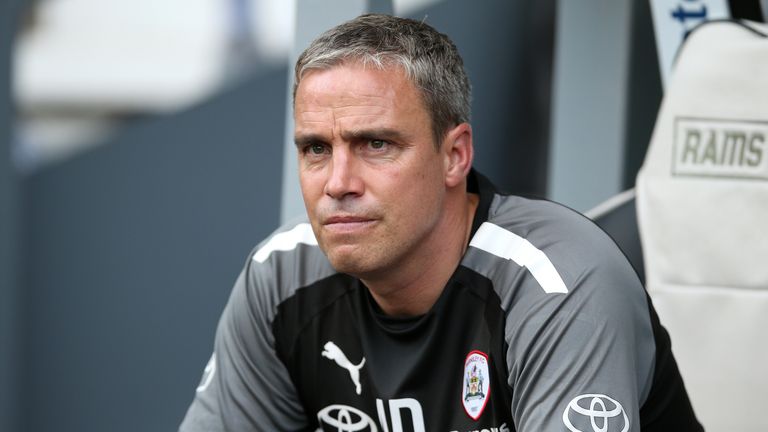 It was a couple of years upside down for Barnsley. Promotion to the championship in 2019 was followed by incredible last-day survival in 2020 and then a near-miraculous run to the playoffs in 2021.
Then, last season, everything went wrong. A few games from the Premier League led to a slump towards the end of the Championship and relegation back to the third tier.
Barnsley slightly changed their approach to recruitment, adding Duff, 44, who had great success in knocking Cheltenham Town out of the Second Division and cementing his position last season.
His first task was to pick up the racquet from the ground, which explained the slow start.
"When I first came in there was a big disconnect between the fans and the club," he says. And there was a major reshuffle at board level.
"The club felt in an emotional state. They had the highlights of the year before but it was behind closed doors so no one could see. Then the year after that when fans were allowed back in was a really bad year, which probably added to the frustration.
"After such a bad season and being relegated and a big player change. There was a debt that had to be filled with player sales.
"But the past is the past. My job is to try to put everything back together. It took some time, but the players were receptive to new information and new ideas, and the group, after a high turnover in the group settled in a bit You've bought yourself in and we're pushing you in the right direction.
"It would never happen overnight. But we said to the players three or four weeks ago that we feel like the daily habits are getting better. The drive within the group is getting better. The award is just a little bit of a drag Cap that it starts working.
"But we have to keep pushing and pushing because we're still a long way from where we want to be."
Duff's career was kind of unique. He was the archetypal two-club man until his move to Barnsley. Although perhaps that was a term that could only be applied to him.
As a centre-back, he spent eight years at Cheltenham and then twelve at Burnley. When he retired in 2016, he moved to the backroom staff at Clarets before taking up the position of manager at Cheltenham in 2018.
In a way, his move to Barnsley marked his first step into a new footballing environment in 18 years and his first time in a managerial position.
Highlights of the Sky Bet League One game between Peterborough and Barnsley

"My next step was always a big one, because in 27 years I've only been to two different clubs," he says.
"It's a very different model here than at Cheltenham. There I was the manager, I knew where everything was going and every penny was a prisoner.
"It's a different model here. It's data-driven, recruitment is a little different, and I'm a head coach. But I knew it was all coming in. I knew there would be a lot of moving parts.
"It's a major operation here and it's impossible to be responsible for everything. After figuring out what was in my control and what wasn't pretty quickly, I was able to move on with what was in my control.
"But it's about reassuring yourself that you can do it. I wanted a new challenge because I felt I had taken Cheltenham as far as possible.
"I was the same as a player. I wanted to challenge myself and show people I could do it. This is a completely different challenge than Cheltenham but we're only five months old and we haven't cracked it yet.
"There were other factors as well. I still live in Cheltenham and my children go to school there. I'll be there for the rest of my life so I didn't want it to go wrong while I'm still in the area."
Barnsley has been promoted from League One in three of his last four tries but the league has now become a different beast.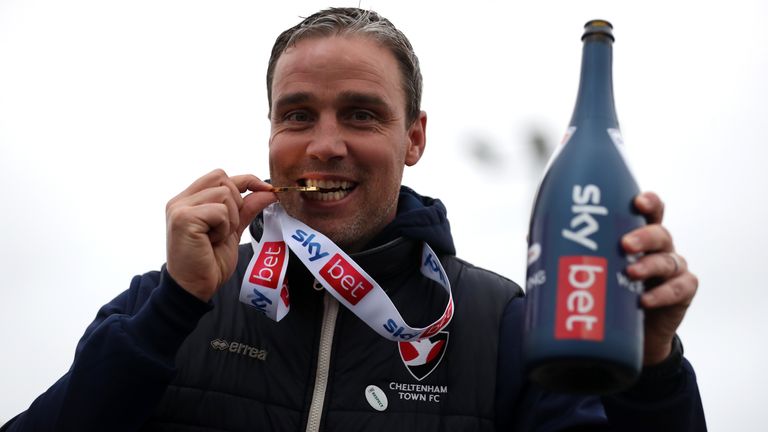 Six of the current top eight, including Barnsley, have played in the Premier League since the turn of the century. Three of those – Ipswich, Portsmouth and Bolton – even played in Europe during this period.
Barnsley have games on hand to try and make the current top 3. Duff is confident but not expectant.
"Right now we're in fourth place and I'd be surprised if there were a lot of fans who couldn't have taken it to be here at the start of the season at this stage," he says.
"The fans here expect us to be competitive when we're relegated to this level, but this is the first time we've been relegated and then had to sell five or six of the starting XI to survive the summer.
"It's not that long ago that we went a whole month without scoring. I was a bit worried at the time, but not too worried. If you look too far into the future, you stumble over where you are.
"I'm just keeping my head down, I'm not going to predict where we're going to end up. If it's good enough I'll still be here, if not they'll move me on and bring someone else in. Talking is cheap."
As a player, Duff worked his way up from the bottom of the table to the Premier League. As a manager he has already moved from League Two to League One with Cheltenham and hopes to one day take the next step with Barnsley.
"The long-term vision and what attracted me to the club is that they want to get into the league and establish themselves," he says. "Get in and stay inside.
"The model has always been to sign and sell young. They had that one year in the playoffs, but now they've had to sell a lot of those players.
"It's about being independent and staying in the championship at the same time. At the moment it's a couple of years uphill and then downhill again."
The dream is of course the top division. Duff is no different from other aspiring managers.
But he knows if he doesn't make the full jump like he did as a player, it won't be for lack of effort.
"If I don't make it, it's not because I haven't worked hard enough," he says. "It was the same when I was a player. Just keep going day by day and see where it takes you.
"When I'm 60 and I'm retired and the highest I've ever finished as a manager is fourth in League One, I can go to bed knowing it's not about cutting corners and trying to do that to cheat the system.
"Hard work pays off and if you're a little lucky you might get a break. I know I'll be happy because I've worked as hard as I can."
It will be fascinating to see where this hard work can take Barnsley.