Retailer takes legal action against fake Prime drink-branded vapes | Features and analysis
Vapes branded "Prime" and "Pryme" that mimic the Prime hydration drink are being marketed on social media, and online vape retailer IndeJuice is taking legal action against them.
IndeJuice has owned the "Prime" brand in the electronic cigarette industry since 2018 as part of its IndeJuice Prime certification – a guarantee of authenticity that helps shoppers to shop for vape products with confidence.
IndeJuice founder George Muharib said: "Identical vape flavor profiles to those found in Prime drinks have been available in the vape market for over a decade and have been critical in helping users quit smoking.
"However, the recent influx of new entrants attempting to marry these pre-existing flavor profiles with imitation Prime brands is a unique marketing phenomenon that is undesirable for all reputable retailers in the industry. In addition to the unnecessarily increased risk of marketing to young non-smokers and non-vapers, such branding also violates IndeJuice's established portfolio of prime brands."
Nishi Patel of Londis Bexley Park in Dartford, Kent was approached last month about stocking Prime branded vapes. "I was offered Prime branded vapes," he said. "I won't touch her.
"It gives you a bad name – why risk your good name being tarnished? If you're already making good sales, you don't need gimmick lines. No reputable company will touch them."
He claimed the government needed to do more to eradicate illegal e-cigarettes. "The problem is that the government doesn't do much about illegal e-cigarettes… If there's nobody to stop them, then they won't stop. There must be stricter and stricter rules for this."
Paul Lodge, Marketing Director at Rusdene Services, which operates Londis and Budgens vape shop businesses, added: "We don't touch anything that isn't from a legitimate source.
"It hurts the industry and it hurts the brand. It's an issue for them [Prime] Shut down. There will always be unscrupulous retailers trying to sell the stuff… It's the seedy underbelly of the world we live in."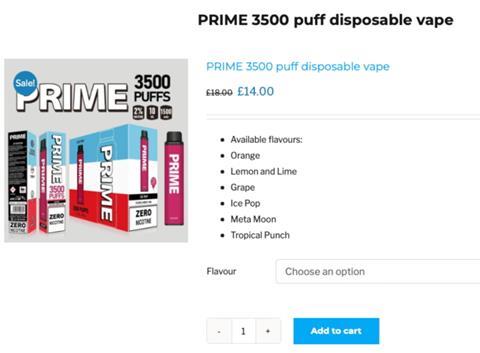 IndeJuice is currently collecting evidence as part of its court case. "From what we can tell so far, most of these products are made in China but distributed from sites in Manchester and London," Muharib said. It appears these items are being distributed through local connections in convenience stores and local wholesalers to keep things offline where they can be easily traced.
"In the last two months there have been 10 new trademark applications for the word 'Prime' or some variant in the vape industry. Most of these applications were submitted just before Christmas, suggesting that more 'Prime' branded disposable vapes are on their way to our UK market as we speak."