Cardiff City: What next after Mark Hudson becomes latest manager to go?
Mark Hudson came and went as Cardiff City boss, his reign lasting just 118 days.
Hudson was actually Cardiff's permanent manager for just over half that time, having only been given a full-season contract in mid-November.
Hudson was initially named interim chief on September 18, following the firing of his predecessor, Steve Morison.
By 14 November he had done enough to convince Cardiff owner Vincent Tan that he was the man who should at least run the club for the remainder of the season.
But only 61 days later Hudson was fired.
The shortness of his reign is striking. But in Cardiff few managers tend to persevere.
The Bluebirds are now looking for a fifth manager in two years, following Hudson, Morison – who served 11 months – Mick McCarthy (10 months) and Neil Harris, who left in January 2021 after 14 months at the helm.
Neil Warnock was the last Cardiff manager to stay in charge, having been at the helm between 2016 and 2019.
Before Warnock, there had been others who only briefly called the Cardiff manager's office home, with Paul Trollope and Ole Gunnar Solskjaer not making it to a year in office.
Russell Slade made it to 19 months, but the pattern is clear.
And so Cardiff fans are once again wondering what's next for their club.
"Now nothing surprises me about this football club," former Cardiff captain Jason Perry told BBC Radio Wales Sport. "It breaks your heart to say it, it breaks your heart."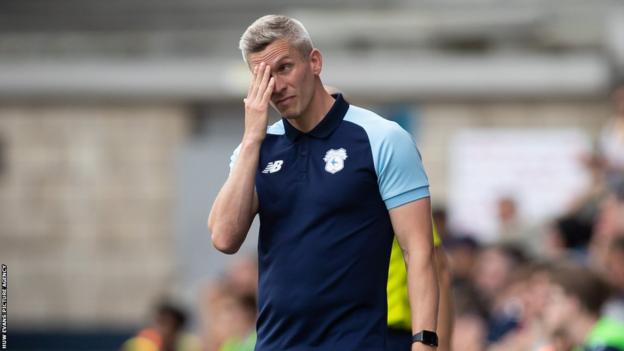 Will it be an experienced manager next?
Hudson was sacked within hours of Cardiff's 1-1 draw with Wigan, extending their winless streak to nine games in all competitions.
The Latics, bottom of the table scored the deserved point in the 96th minute.
Would Hudson have been fired if they held on to victory?
Maybe not, but the club's popular former captain has left and the focus is now on who will replace him.
After two Cardiff manager rookies, Hudson and Morison, were given a chance – albeit briefly – to prove themselves, the early suggestion is that the club will bet on experience this time around.
Chris Wilder was on Cardiff's radar last season and could well be a target again, although it's uncertain if he would be interested.
Dean Smith is another manager with plenty of league experience available but again there is no guarantee he would be willing to take over at a club just three points above the relegation zone.
Warnock announced his retirement from management last April but has been linked with a return to South Wales and that is not unthinkable at this time.
Other available managers with second tier experience are Grant McCann, Lee Bowyer and Steve Bruce.
In truth, it's not easy to predict which path Tan will take next.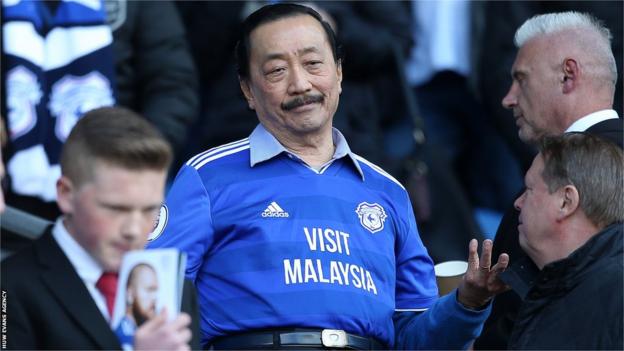 "Cardiff City are a club that reacts, they react from the scoreboard now [against Wigan] because they don't have anyone at the required level to look at the whole thing, the big picture, the process," Perry said.
"It's a club that's run without a plan and when you have that, you go from pillar to post. You just react, you bring in different managers with different styles, different opinions, bringing in different types of players, which costs you a lot of money and debt.
"I'll tell you something now, it's not going to be as easy as you think bringing a manager to Cardiff City because they know it's a circus over them."
Analysis – Rob Phillips, BBC Wales Football Correspondent:
After more than 30 years of covering Cardiff City, nothing should surprise me.
But I was really shocked when news of Mark Hudson's sacking broke.
A decision like this can only be made by one man, Vincent Tan.
The next manager appointed will be the 26th in my time covering Cardiff. But if the final whistle had blown a minute earlier against Wigan, Hudson would still be there.
Listen to BBC Sounds again and you'll hear former Cardiff players Ian Walsh and Jason Perry laugh at the news. They weren't heartless, just reflecting that the club is seen as a laughing stock.
Hudson, a good servant as a player, deserved better.
Still yet to kick a ball in anger due to injury, summer new signing Ebou Adams is about to welcome his third Cardiff manager. It's a ridiculous way of running a club and the turmoil can only benefit Cardiff's relegation rivals.
Everyone knows Cardiff needs a philosophy and identity to develop as a club. Steve Morison and Hudson added pace and more creativity — but a lack of end products is the problem.
The summer's heavy recruitment was far from perfect, but the goal was clear. What now? Neil Warnock back?
In terms of Warnock's rise to the Premier League and his success in bringing the club back together during his time as Cardiff boss, he left a scorched-earth squad and youngsters like Rubin Colwill and Isaak Davies only emerged after his departure.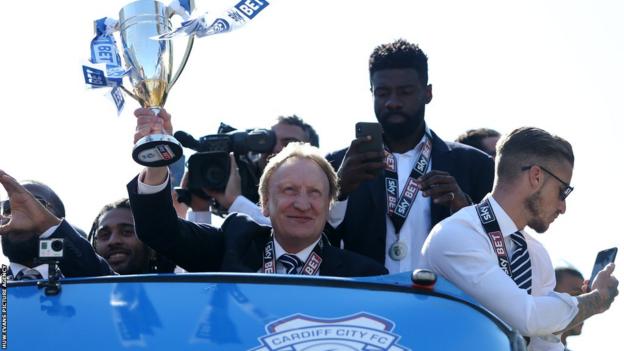 A director of football today would have a list of potential candidates for a board to consider – but the club has none.
It doesn't make sense to have one the way the club is run and built. And here – in short – is the subject at the heart of Cardiff.
The most important decisions are made by a man who pays the bills and whose financial commitment is undisputed.
Tan can hardly afford to see the club relegated, so he pulls the trigger when that frightening prospect seems more likely.
Until he wants to sell or a bidder comes up with a suitable offer, that's the reality – and the asking price would drop significantly in League One.
It's a vicious circle with no sign of breaking. Cardiff fans are in a catch-22 and watch helplessly as the club flounder in choppy relegation waters.
Should Cardiff recruit the right manager, they could still avoid relegation. In truth, Cardiff can't live with Tan at the moment, but they can't live without him at the moment either.