The hard work starts now, Eddie Howe warns Newcastle
Newcastle boss Eddie Howe has warned his players that their task will only get harder as they try to build on a first half of the season that saw them third in the Premier League table.
The Magpies climbed back up over Manchester United after a thrilling 1-0 home win over Fulham on Sunday, who extended their unbeaten run in the top flight to a club record 14 thanks to a fifth straight clean sheet.
Howe's men, who also reached the semi-finals of the Carabao Cup, are aiming high but know they have achieved nothing.
The 45-year-old said: "It was a really good first half of the season for us. We've improved from the start of the season until now. I think there will be more growth in the team.
"I'm really happy with the dedication of the players and what they've done for the team, me and the club, so I think we're in a good place.
"But the challenge is getting harder and harder."
Newcastle's most recent win came courtesy of an 89th-minute header from substitute Alexander Isak, although the club's record £60m stroke might have secured just a point had it not been for former Magpie Aleksandar Mitrovic seeing as in the A penalty was awarded in the 69th minute for a double contact.
Fulham manager Marco Silva has been philosophical about the Serbia international's misfortune but was furious that referee Robert Jones had only awarded the penalty after he was asked to review Kieran Trippier's tackle on Bobby Decordova-Reid after he was seconds had previously resumed play when Andreas Pereira went down while tussling with Dan Burn.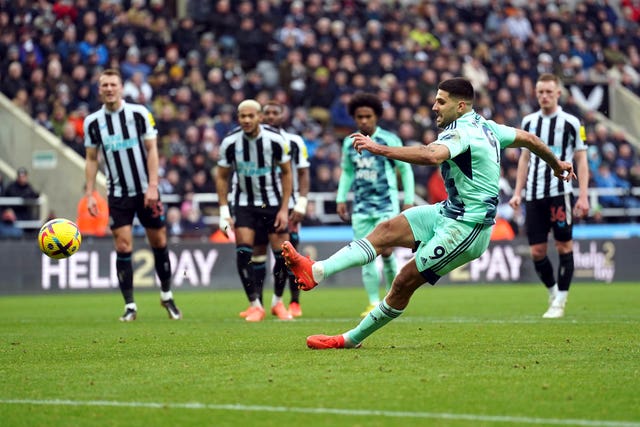 Silva said: "It can happen, the players are on the pitch and they can miss a penalty. Under different circumstances, Mitro missed the penalty.
"But I have to mention the referee's decision and the VAR's decision. It's difficult for us to understand two decisions in the penalty area in 30 seconds, two clear decisions in the penalty area at that moment. It's hard to understand why the referee didn't see one, at least one.
"You can perform poorly. For us with the VAR with a screen in front of him it's harder to understand how he can't see that first penalty and red card.
"I don't have to see the replay, one picture is enough: clear penalty, clear red card and the game will be completely different."
Howe controversially chose Joelinton in his starting line-up three days after he was charged with drunk driving after speaking to the player and his staff.
He said: "I didn't underestimate what Joe did but there are a whole lot of things to consider and I felt like this was the right call at that moment."
However, he traveled home awaiting news of fellow Brazilian Bruno Guimaraes, who limped off at half-time with an ankle injury that could still affect the club's January transfer mission.
Howe, who admitted afterwards he might have replaced the hugely influential midfielder sooner, said: "We'll have to have it scanned and checked to see what the damage is. We hope it's not long-term, but at the moment we don't know."