Southampton record signing Kamaldeen Sulemana "learned a lot" from Ghana's Qatar experience
Southampton record signing Kamaldeen Sulemana believes his experience at the World Cup with Ghana has given him a "solid foundation" for the future.
The striker scored five goals in 27 games on his Ligue 1 debut last season but plagued by a back injury, he netted just once in 18 games before leaving Rennes this season.
However, Sulemana told BBC Sport Africa that the World Cup call-up was an invaluable experience: "I think we've learned a lot, especially the young players, because there's still so much ahead of us.
"As a team we are good together. We kept the ball on the ground and showed what Africans can do. I think the improvement will continue. The future for the team is bright."
"It was a dream come true to play in Qatar because four years ago I was 16 when I played at Nordsjælland's academy.
"To see the tournament (in Russia) in 2018 on TV and to be able to be part of the next World Cup makes me feel blessed and happy. It was a really great experience."
After a disastrous performance at the Africa Cup of Nations In early 2022, manager Otto Addo brought in new players for the tournament in Qatar, including Brighton's Tariq Lamptey, Athletic Bilbao's Inaki Williams and Mohamed Salisu, Sulemana's new Southampton team-mates.
The Black Stars beat South Korea defeats at the World Cup in between Portugal and Uruguay to finish at the end of Group H but Sulemana believes the team had the potential to go much further, similar to Morocco on the way to the semifinals.
"If you get out of the group, it doesn't matter if you're a favorite or not, you can continue like Morocco. With the potential and the players we have, if we had progressed we could have achieved something great." ' said Sulemana.
"It's just as unfortunate as it turned out for us at the World Cup, (but) getting eliminated in the group stage on the biggest stage in the world is a learning curve that should set us up for the future.
"We had three points and needed a draw or a win to progress. I think we were close but we paid the price. We showed in Qatar that we are fearless and the win against South Korea is further proof making sure we have a solid foundation." Build on something."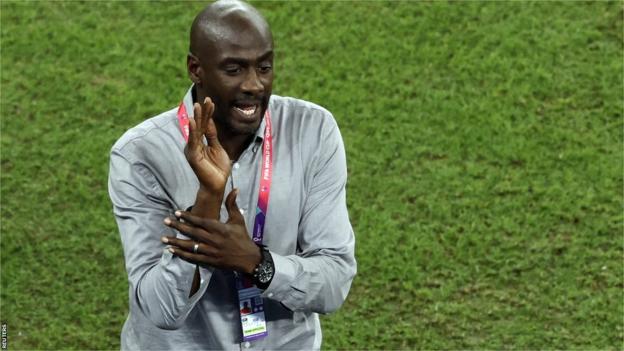 A new era for the Black Stars
managerless, after Addo's resignation, The four-time African champions will count on the European-born members of the squad as they continue with Africa Cup of Nations qualifiers.
German-born players – Stephen Ambrosius, Ransford-Yeboah Konigsdorffer and Patric Pfeiffer will join Lamptey and Williams to compete on the continent.
Salisu, Daniel Amartey and Alexander Djiku are expected to form the bedrock of Ghana's defence, while Arsenal's Thomas Partey can become captain at 29 and lead the next era.
The squad also has a younger element who will benefit from the Qatar experience in the likes of Sulemana and Mohammed Kudus, while the likes of Fatawu Issahaku, Gideon Mensah and Abdul Samed Salis all have their primes ahead of them.
"For us as young players, it's a self-motivation. We know that the Ghanaians see us as the future and that's a big responsibility. I think we can deal with it," said Sulemana.
"If you can't handle the pressure against you, you just stay at home and don't play football because in football there is pressure every day.
"Football is a game of opinions, you know, some people will believe in us and some people won't. That's football."
It remains to be seen what the continued involvement of Elder Statesmen like 33-year-old Andre Ayew and his 31-year-old brother Jordan will be.
Ghana will continue in qualifying to reach the next Nations Cup in March.
They started their campaign for the postponed 2023 tournament back in June a 3-0 home win about Madagascar before a 1-1 draw away to the Central African Republic.
However, the country's Football Association (GFA) has yet to fill the void left by Addo's departure and must name a replacement ahead of their home and away games against Angola.
"We have to return to international football and improve after the game in Qatar," added Sulemana.
"Everyone understands what is expected and we cannot make the same mistakes again as a country.
"We have to do everything we can, deliver on the pitch and do our country proud."