Gold medal a "pretty awesome" experience, Amos says
content of the article
EXETER — A new gold medalist was on the ice at the South Huron Rec Center on Tuesday, Jan. 31.
content of the article
Ailsa Craig's Jocelyn Amos led Team Canada's Under-18 team to gold at the IIHF Women's Ice Hockey World Championships last month. It was Amos' second gold medal with the team that won last year (Amos scored the winning goal at that tournament in Madison, Wisconsin).
Canada sealed their gold medal on January 15 with a 10-0 win over the hosts in Östersund, Sweden.
Amos, who turns 18 this month and is a year 12 student at Medway High School in Arva, attended professional ice skating coach Kathy McLlwain's morning session in Exeter on January 31 to skate and give McLlwain's other students the opportunity to give to look at Amo's gold medal.
"It was pretty awesome," said Amos of Team Canada's gold medal in Sweden. "It was a great feeling, especially when the team beat Sweden 10-0 in the final with full force."
content of the article
Amos suffered a minor injury in the first half of the tournament's first game, causing her to miss a couple of round-robin games against Sweden and USA, but she credits the team staff with doing "a really great job". made her sure she was back for the semifinals and finals.
"We had a very special group," said Amos of this year's Team Canada. "The girls really bought into the process," she said. "We had a really good culture."
While Team Canada dominated the gold medal game, Amos said there were challenges along the way. During the 4-2 preliminary round match against Sweden, Amos said Team Canada needed 28 minutes in the penalty shootout and were shorthanded for much of the game. In the semifinals, Canada needed overtime to defeat Finland 3-2.
content of the article
"That was a hurdle that we had to overcome as a team. We had to stay positive," she said.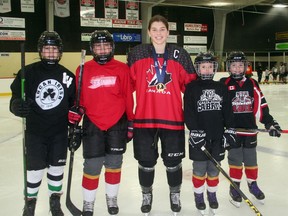 Looking ahead, Amos, who plays for the London Devilettes, will play for Team Ontario at the Canada Winter Games in Prince Edward Island this month while she continues her post-secondary education at Ohio State next year while also playing hockey.
"I'm really looking forward to it," she said, adding that she sees the Olympics as her goal and will keep working hard and see where it takes her.
Amos began her hockey career with Lucan Minor Hockey and says she caught the competitive fever early on, as both her older brothers and parents played hockey. She has worked with Exeter's McLlwain for more than seven years and says the Exeter coach pushed her to excel and improved her skating.
content of the article
McLlwain is well known in hockey circles having worked with many NHLers and OHLers on their skating including Ryan O'Reilly, Bo Horvat and Corey Perry.
"This young lady is unstoppable," McLlwain said of Amos. "Her drive and dedication are contagious to young skaters."
McLlwain continues to work with Amos and other Delettes over the summer and said she was very proud of them.
"It's a pleasure coaching Jocelyn. I am grateful to be a small part of their development."
The skaters at McLlwain's morning session on Jan. 31, which range in age from eight to 14 and include kids from South Huron, Lucan, London and Seaforth, were thrilled to see Amos and her gold medal. Amos said when she was younger she always looked forward to seeing the older players with their medals.
"It's a pretty great feeling," she said.