Wild About Saskatoon: Real action needed to protect nature in Sask.
Governments may not be meeting their obligations to protect vulnerable areas, but some people in Saskatoon and Saskatchewan are doing so.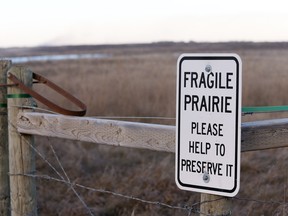 content of the article
We wish we were not surprised to hear that our provincial government is skipping COP 15, the 15th Conference of the Parties to the United Nations Convention on Biological Diversity, now taking place in Montreal.
content of the article
As Andrea Olive pointed out in her recent comment (SP, Dec. 7), the Saskatchewan government never seemed to care about conservation.
content of the article
As the rest of the world, including Canada, works towards a goal of getting 30 percent of the country by 2030, Saskatchewan is sticking with the 12 percent it set itself some two decades ago. Even this ambitious goal was unattainable for us.
According to the latest figures from the province's website, only 9.76 percent of the lands in this province are protected. Small, isolated fragments of habitat are far from sufficient to sustain robust, diverse, and functioning ecosystems.
But when our government doesn't take action to protect biodiversity, many people in Saskatchewan do. For the past 10 years, Wild about Saskatoon has worked to celebrate and champion the natural areas in and around this city.
content of the article
We are constantly inspired by the many people who care about nature and who work tirelessly and creatively to educate others and protect and restore ecosystems.
This city is blessed with an abundance of natural treasures – the magnificent river valley, natural and protected areas, the city forest, and gardens and parks. These areas are home to an abundance of life, from crocuses to meadowlarks and tricolored bumblebees to whitetail and mule deer.
The city's official community plan envisions a city that "grows in harmony with nature" and "thrives in harmony with its natural surroundings, conserves resources, and consistently demonstrates environmental leadership."
In addition, the plan includes a commitment to prioritize nature in urban design: "Developments must incorporate, preserve and complement all significant natural features (and) respect the land's physical capacity for development…"
content of the article
Those are glowing words. But does the city keep its word?
Two of the city's major natural areas, Northeast Swale and Small Swale, will be impacted by current and proposed development, including the proposed University Heights 3 neighborhood and a major thoroughfare, the Saskatoon Freeway.
This high-speed line is expected to run eight lanes through North East Swale and expand to ten lanes in Small Swale.
The grasslands and wetlands of the Swales are remnants of one of the most vulnerable and least protected ecosystems on earth. In our region, less than five percent of the original fescue prairie remains.
But the Northeast Whale alone is home to over 200 species of plants and over 100 species of birds, as well as many mammals, reptiles and amphibians.
content of the article
Of these, there are 17 federally listed species (species classified as threatened or endangered), including the barn swallow, northern leopard frog and American badger, and 15 provincially listed species, including northern shrike, buttercup violet, lesser yellow lady's slipper and the steppe predator fescue.
Merely listing these species does little justice to the exquisite beauty and vitality of these areas and the delight they bring to visitors.
When the Swales are irreparably degraded – death by a thousand cuts – Saskatoon's proposed National Urban Park will be a sad effort. It is high time that governments at all levels got serious about protecting nature.
Joanne Blythe and Chad Hammond are steering committee members of Wild About Saskatoon, a Saskatoon group dedicated to protecting, connecting and enhancing natural areas and advocating civic and provincial policies that support the health of local ecosystems.
content of the article
Cameron Wood: The grasslands of Saskatchewan are among the world's most vulnerable ecosystems

Andrea Olive: Saskatchewan remains a conservation latecomer in Canada
• Opinion articles — also known as guest columns, guest comments, or commentaries — that focus on current events in the Saskatoon and Saskatchewan area are preferred.
• Articles must be original work submitted to us and not otherwise published material. Notify us if you submit an entry for more than one publication.
• The maximum length for an article is 650 words, and we will consider shorter papers of around 500 words.
• Authors should have experience or expertise in the subject they are writing about.
• Please add a line after the article briefly summarizing your relevant qualifications or background. Also, be sure to disclose any personal interests or conflicts of interest related to the topic.
• As with letters, do not address an article to a third party such as the Prime Minister or the Prime Minister.
• In general, we prefer a maximum of two names as authors of an article, although four names can be accommodated. Co-author names may also appear at the end of the piece. We need the name of an individual, not an organization, for an attribution.
• Send articles as body text in an email, not in an attachment.
• Make sure the facts are correct. Please send sources for any obscure information contained in an article (these can be sent in a note accompanying the article). Ideally, any facts or statistics that are not known should be provided within the article.
content of the article
• You will be notified if your article is considered for publication, but we cannot publish every article submitted. Articles of provincial interest may also be published in the Regina Leader post. Articles may appear online prior to publication in the print edition.
• The StarPhoenix does not pay a freelance fee for opinion pieces that may also run in other Postmedia outlets.
Some hints:
Timed coordination: It should be obvious why we are discussing this issue now and not next month or next year. Usually that means some kind of new development or something that will happen soon.
Originality: The author has something new to add to the conversation.
Opinion: A clear opinion is expressed that goes beyond mere analysis. The author advocates a position and/or criticizes an idea or decision.
Authority: The author has relevant expertise or above-average familiarity with the topic.
Voice: The style resembles a personal essay. You write in your own voice (but preferably not in the first person) and do not quote other people's views.
Structure: Starts out captivating and quickly signals the reader where the play is going. The argument is developed, and then the play ends with a final, clear statement of what is at stake.
Writing style: Appealing and clear.
Volume: Powerful arguments are welcome, but no meanness and abuse. Avoid motive attributions and sarcasm.
With files from the Edmonton Journal and the Montreal Gazette
Want to know how we decide what to cover and how editorial decisions are made in the Saskatoon StarPhoenix and Regina Leader post? Get the weekly newspaper Editor's letter Newsletter from Editor-in-Chief Russell Wangersky and join the discussion on what's behind reporting news and providing commentary, both in print and online. Click here to login.