Sammy Mould: Youngest manager achieves first win for non-league Yaxley
It is important for every new manager to secure a first win.
But when you're 20, the youngest boss in English football's top nine leagues, and you have everything to prove, first success can't come soon enough.
Before the recent appointment of Sammy Mold as caretaker manager of Northern Premier League Midlands Division Yaxley, they had managed just a single point in 22 league games.
Two more defeats followed, but the losing streak ended on Saturday as The Cuckoos beat Harborough Town 3-1, despite full-back Robert Squillace being sent off after a second yellow card on the half-hour mark.
The visitors, who were 1-0 down, equalized shortly after, but as they went forward Jude Adebayo restored the lead and a second of the game from debutant Andrew Osei-Bonsu – who played for last season played Scottish League One club East Fife – sealed the victory in added time.
"I signed six players and got rid of a few. I've had to be ruthless. I'm here to win – regardless of my age," Mold told BBC Sport.
Covid restricts game ambitions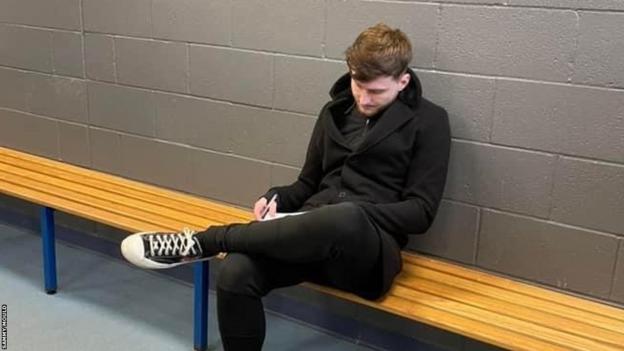 The result was all the more remarkable given that Harborough beat them 9–1 earlier in the season – a game in which their forward Nat Ansu scored five goals, including a four-minute hat-trick.
"I have to agree – excellent defensive performance from Yaxley," Harborough boss Mitch Austin later posted on Twitter.
"We've improved a lot. I think the game was a bit of a banana peel for them," Mold said.
He was forced to stop gambling and find new ways to get involved in the game after a bad reaction to a Covid vaccine resulted in a blood clot in his lung.
As well as setting up a sports management company after returning from a stint in the US, he had been helping out at Yaxley prior to the departure of former boss Andy Furnell earlier this month.
"I'm 65% as good as before. I can't train, although I got a little kick from training.
"My life is busy, which is helpful, but I still suffer from side effects like blurred vision. Hopefully that will improve over the next 12 months."
Mold says he's considered a career in management since he was 12 or 13, and when invited to replace Furnell he had no hesitation in accepting.
"I was a decent footballer but I never wanted to play in the Premier League or the Championship. I think I could have advanced in the game with the right guidance, but I never wanted to be the next Wayne Rooney," he said.
"But I understand the game and my ambition is to be in the Premier League."
Mold is aware it will take a lot of coaching badges to even come close to realizing that ambition, but he said the most important thing he's learned from managing players so far is that "experience is worth a lot more than badges ".
"People can have all the badges in the world, but they don't have the social skills to motivate a team," he said.
"Core has been decimated"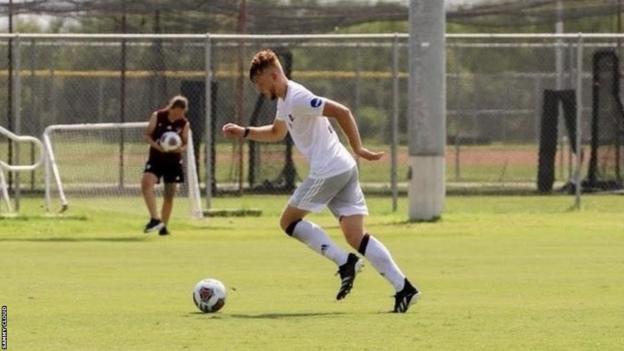 Yaxley finished last season in 14th place with 12 wins in 38 games after making a sideways move from the Southern League to the NPL.
So why did they start the current campaign so badly?
"They lost a lot of players – the core of the team has been decimated and the club has the lowest budget in the league, you have to consider that," Mold said.
"But I knew that even with a limited budget, I could get the team to play for me."
He estimates that his company now has around 250 player clients and that before he became manager, "about 40% of Yaxley's players were mine".
After a 4-1 loss to St Neots after just hours of working with the squad, Mold provided an immediate improvement as they lost 1-0 at home to Chasetown after an injury-time winner.
"They celebrated like they won the Champions League," he said.
Yaxley have 13 league games left this season in what Mold says is a "massive relegation battle" – but there are prospects of a title win when they meet Eaton Socon in the Huntingdonshire Senior Cup semi-finals on January 24.
What would success look like for him at the end of the campaign?
Mold says the win over Harborough won't mean much unless they "back it up with more wins," but added: "I'm just going to take it game by game and not look too far ahead. We're in a position where we have some momentum now and the opposition won't be sure who will emerge.
"We still have a couple of tough games ahead of us, so let's see where we are in a few weeks."
Would he be interested in continuing as a coach next season?
Mould, who cites Pep Guardiola as an inspiration and describes the Manchester City boss as "absolutely brilliant, a winner, tactically smart and like a 12th man for his team", says he "wants to go higher not lower" during he plans his career.
"The club knows I want to work at the highest possible level. It depends on how the season ends.
"We have a brilliant chairman, a brilliant board of directors, a brilliant director of football and we will make the decision that is right for me and the club."