Weather warnings as UK faces rare freezing rain and snow today, but temperatures on…
December 18, 2022, 9:18 am | Updated December 18, 2022 at 9:22 am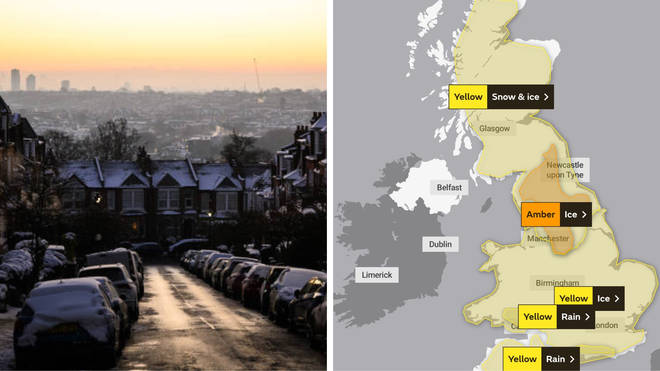 The Met Office has issued severe weather warnings for much of the UK as forecasters warn freezing rain and snow could pose a threat to life.
A yellow ice warning was issued for the north of England from 9am to 8pm, with the office saying freezing rain and snow could result in 2-3mm of ice on untreated surfaces.
The weather could lead to dangerous driving conditions, possible power outages and problems with public transport.
Freezing rain describes when rain lands on very cold surfaces and freezes almost immediately, and the phenomenon is rare in the UK.
It can have striking effects when raindrops spread out just before freezing and cover surfaces with a layer of clear ice.
Continue reading: Rishi Sunak calls union leader Mick Lynch "the Grinch who wants to steal Christmas" while criticizing strikes with "cruel timing".
Continue reading: Kettering: Man charged with murder of NHS nurse and her two children
Amber weather warnings are in place today for fog, ice, snow and rain in various other parts of the UK, with a change expected tomorrow.
On Monday, daytime highs will range between 11C and 14C after the past few days' freezing temperatures have passed.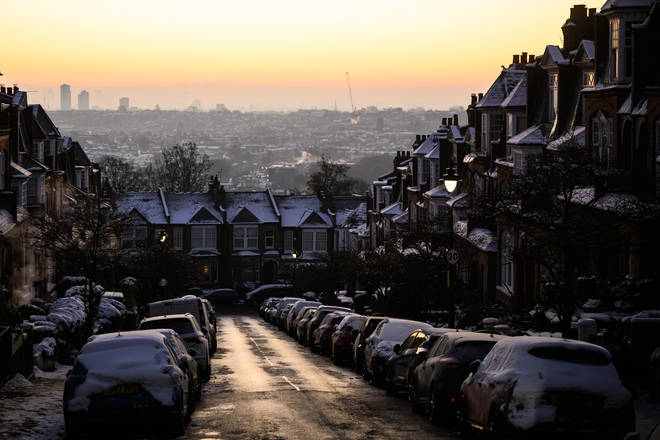 Met Office forecaster Marco Petagna said: "Right now, daytime temperatures are in the low single digits and remain below freezing in places under snowpack leaving some areas just a tad below zero.
"But daytime temperatures through Monday are what we're seeing across the UK with highs of 11C to 14C, so around 15 degrees higher than previously for sure."
Tomorrow Aberdeen could see highs of 12C or 13C, while the temperature in London could reach 14C if winds from the west or south-west overtake the cold wind from the north.
Mr Petagna said that while it is not uncommon to see these temperatures at this time of year, it is quite unusual to go from very cold to very mild in a day or two.
Peter Jenkins, campaign manager at Water UK, warned that rising temperatures could lead to bursting pipes.
He said: "The last thing we want is for people to experience further disruption this weekend as temperatures rise, putting many homes at risk of bursting pipes due to freezes and thaws.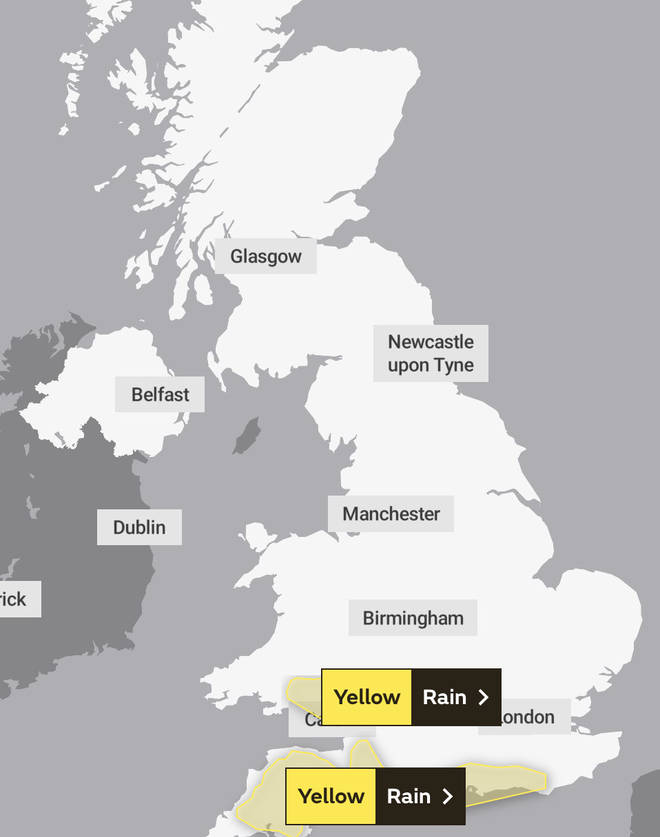 "So we urge everyone to check now that their plumbing is well insulated and follow our simple tips to protect the home from the elements."
The warning came as floodwaters hit residents in Camden, north London, after a water main burst and flooded a road.
Around 60 firefighters were called to the street at Swiss Cottage at 2.50am yesterday morning, with many homes flooding and around 20 residents being evacuated by firefighters, London Fire Brigade said.