FOCUS ON BUILDING & DESIGN: Plan for success | Feature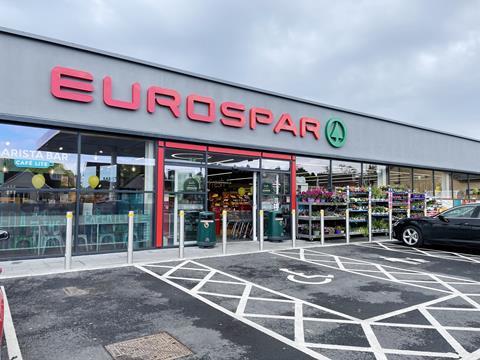 They say that beauty is in the eye of the beholder and in areas like design this is definitely true. Across the country, gas station owners are applying for plans to expand their operations or even demolish and rebuild.
Noise and light pollution are often cited as reasons why the plans should not go ahead, but in Morpeth, Euro Garages and Persimmon Homes plans for a new petrol station, hotel, offices and 150 homes were rejected by council for a variety of reasons. According to the Northumberland Gazette, one councilor described the plans as "terrible", while another said his granddaughter could have done a better job.
However, the winner of Best Design and Development at this year's Forecourt Trader of the Year Awards – Eurospar Kircubbin in Newtownards – could never be called hideous.
The award winning site is the product of a complete KDRB as it previously housed an outdated and no longer serviceable gas station.
From the front, the shop looks like many other Eurospars. The central design feature is the elongated façade with extensive glazing, which lets in plenty of natural light. Above that is an eye-catching, solid Eurospar bezel in red and green. However, one of the great advantages of the location is its location – right next to Strangford Lough and overlooking the Morne Mountains.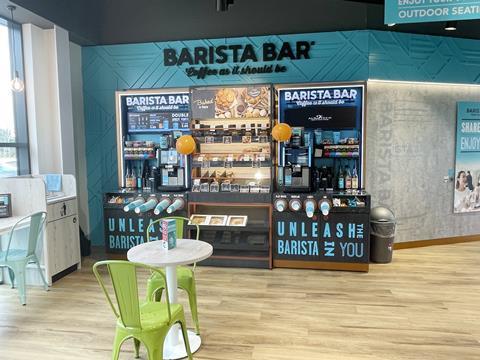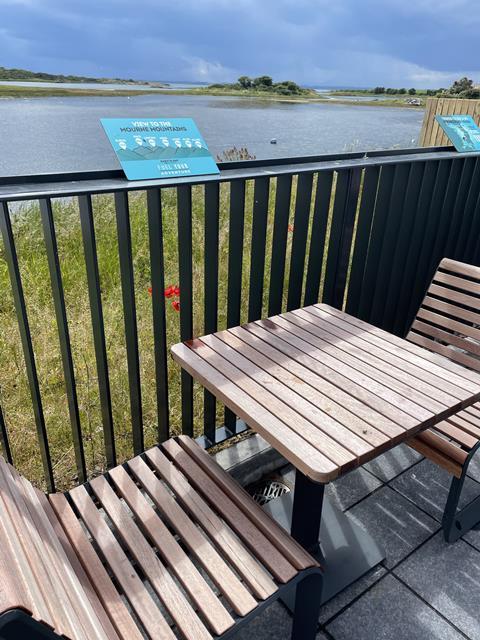 Magnet for cyclists
At 150 square kilometers, Strangford is the largest lake in the British Isles. As such, it's a magnet for those looking to engage in outdoor pursuits like canoeing and cycling. Eurospar Kircubbin have made the most of this by installing an outdoor seating area at the back overlooking the lake. Cyclists can roll their bikes down the side of the building, park them, and then enter the store through the back doors. These take you straight into the impressive Barista Bar, where there is more seating when it rains.
The Barista Bar is just part of a very impressive store that has grown larger than the original store and was designed to give the local community access to a local supermarket with a modern, bright look and no pillars so there is an uninterrupted interior space.
While the old store was 2,400 square feet, the new one is 4,400 square feet, with an additional 670 square feet of hot food. Eurospar Kircubbin was Hendersons' 101st store to open, following the company's strategy of building stores informed by local data to meet the needs of local shoppers directly. For example there is a fantastic selection of fresh meats from J Wright & Son, lots of fresh produce and a good selection of ready meals.
The grocery and non-food aisles are full of 'Super Deals' or items priced to match Tesco. There is also a post office and a customer toilet.
There is a community screen at the main entrance that shows customers how the store supports its neighbors and customers with local community projects. Wide aisles, the wood look floor and open ceiling structure as well as the massive windows to the front make the store light and bright.
New technologies in the store include self-checkout and high-speed WiFi, while sustainable elements in the design include heavy-duty insulation, energy-efficient glazing, heating and cooling, PIR sensors and LED lights.
Outside there is Circle K branded fuel, 30 parking spaces including parent and infant parking and disabled parking, air to water vacuum services, bulk fuel/emergency fuel, bottled gas and a 24 hour ATM. There are indoor and outdoor trolley parks and mini carts for kids to shop with their parents. A carry-to-car service is available.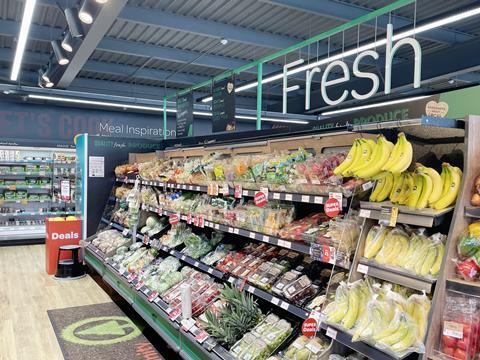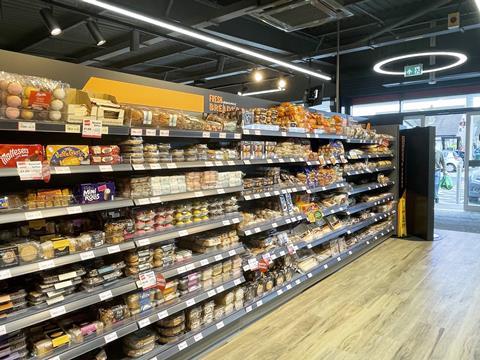 Community Boost
With all of this, it's no surprise to hear that the store is trading above expectations and has been a real boost to the community.
Northern Ireland has some amazing forecourt locations so it should come as no great surprise that the other two finalists in the Forecourt Dealer of the Year category for Best Design and Development were both from the province.
One of the runners up was Portglenone Centra which is operationally one of the best stores in Musgrave and won the title of 2022 Corporate Store of the Year.
As one of Musgrave's flagship stores, the company has recently invested hundreds of thousands of pounds in the site to showcase the best that the Centra brand can offer and to offer customers a modern shopping environment and experience. The money was spent through the forecourt, shop and parking lot (which has been repaved).
The store itself is a smart building with pictures showing what shoppers will find inside.
The store was the first in Northern Ireland to receive the latest 2.0 Frank and Honest hot drink unit.
Significant investment was made in the off-license space to ensure it had the very best specs to make it a target and the best 'local and beyond'.
A lot has also been invested in new sustainable technologies. Using a CO2 refrigeration system for the refrigerators and freezers not only contributed to energy savings, but also reduced the store's annual CO2 emissions. Musgrave says it's one of the first C-stores to use the technology, as it's typically only used by supermarkets – this was done in partnership with local company Portglenone Refrigeration Services. Electronic shelf edge labels were also introduced.
New design
The entire layout of the store has been changed. For example, the tills are now on the front window and "last in flow" and the number of shopping bays has been reduced to give the store space and make it easier for the customer to navigate. Customer feedback was immediately positive – many believed Musgrave had expanded the store.
Outside, the forecourt has been repaved and relined to make traffic flow safer and better, particularly for parking larger vans and tractors. There are new pumps and an upgraded car wash.
The other runner-up at the awards was another Eurospar, this time Rossdowney on the outskirts of Londonderry. This was another complete knockdown rebuild. The store expanded from 5,300 square feet to 6,600 square feet. Key design features are the tall facade with extensive glazing, allowing plenty of natural light and views into the store, as well as additional height inside. Exterior materials used include natural stone, wood effect paneling and light colored plaster for a modern and fresh look. The store contains a central design feature embedded in all new Henderson Retail designs, framing the main storefront. This light gray "arch" provides a clean, clear background for the Eurospar brand, while all other brands are displayed on a wood-look panel.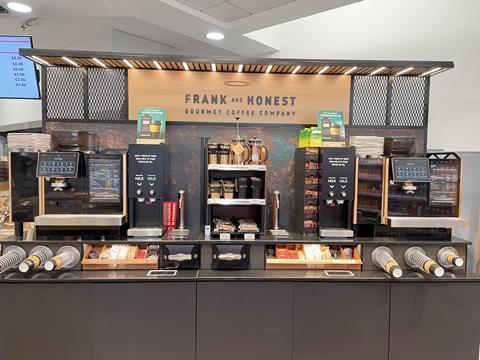 QUICK FACT: £1.5m The cost of AY&Y Patel's redevelopment of its Leeds Road site in Bradford
AY&Y Patel's partnership with James Hall is thriving
Top 50 Indie AY & Y Patel have opened two new Spar supermarkets and petrol stations in West Yorkshire in partnership with wholesaler James Hall. A £1.5million total refurbishment of the Leeds Road site in Bradford transformed the forecourt into a bright and welcoming Shell petrol station after seven months of work.
The state-of-the-art forecourt features new HGV facilities, while in-store new features include an F'wip gelateria and a Frozen Fanta machine.
There is also a wider selection of Spar branded products in store, as well as the Clayton Park Bakery and Fazila Food lines and the launch of Dot's Donuts.
There is more to come too, with a Bombay Bites concept opening soon in a separate building on the same site.
A second service station on Roseville Road in Leeds has also reopened following a £500,000 investment. Shell fuel is now offered at the petrol station and the greatly expanded market is now managed under the Spar brand.
Roseville Road is the fourth forecourt AY & Y Patel have with James Hall.
Shaheena Patel, Operations Director at AY & Y Patel, says: "The development of the websites took a lot of hard work but it was worth it and we are very impressed with the finished look.
"Both stations will prove to be excellent options for customers in Bradford and Leeds and we are already seeing some strong sales results and have had brilliant feedback from customers.
"Our working relationship with James Hall & Co. Ltd is fantastic. We have a hand in hand relationship and really feel valued by the team there working with us to support our business ambitions.
"Following the success of our Mirfield site, which reopened three years ago, we are confident that similar results will be achieved in Bradford and Leeds and we have exciting plans for two more sites with James Hall in due course."
Peter Dodding, Sales Director at James Hall, says: "We are delighted to support ambitious family businesses like AY & Y Patel Dewsbury Ltd and to see that support being realized with two outstanding new service stations is great.
"We have a close relationship with the Patel family and look forward to supporting them as they continue to expand their business with more service stations in the near future."