Eva Green film project became 'Shakespearean farce', High Court told
Filming of a crashed sci-fi movie set starring Bond girl Eva Green became a "Shakespearean farce," the film's producer told the High Court.
Casino Royale actress Ms Green was set to star in the dystopian thriller A Patriot, but production halted in October 2019.
The 42-year-old is now suing production company White Lantern Film, claiming she is still entitled to her $1 million (£810,000) fee for the project despite the cancellation.
White Lantern Film is countersuing the French actress, alleging that she undermined the independent film's production, made "excessive creative and financial demands" and had expectations that were "incompatible" with the film's budget.
Max Mallin KC has claimed for the production company that a "scheme" was worked out between actress, writer and director Dan Pringle and producer Adam Merrifield – reportedly described by the latter as "Operation Fake It!". – to secure her fee and make a separate film without the involvement of the project's lender.
However, on Thursday the High Court in London heard from Mr Merrifield, who denied any plan to undermine the production and said his comment was a joke.
He said: "We had to go to the Black Hangar for weeks [the studios] and trying to get this movie to work."
The producer said there was a plan to move to a new production structure with Mr Merrifield leaving the film, but it was unclear if it had been put in place.
"By that point it had become sort of a Shakespearean farce," he said, later adding, "There wasn't really anything to undermine."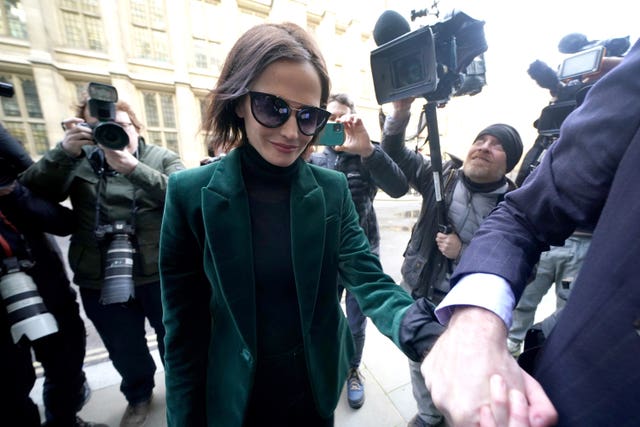 The court had previously heard that the film was originally set to be shot in Ireland, but filming later moved to Black Hangar Studios outside London.
On Thursday, Harry Boyd – a first assistant director on the project who later resigned – said he visited the Hampshire studios about six weeks before filming began.
He told the court: "It was like a morgue. It should have been busier than this courtroom with lots of people walking around."
In his written evidence, Mr Boyd – who has worked on projects including the Oscar-winning 2021 film Dune – said he only saw three or four crew members working on another project.
"It was an aircraft hangar with leaks and no soundproofing," he said, adding in his written evidence that he was "shocked" by the facilities.
Mr Boyd continued: "I had no doubt that Black Hangar was not suited to make a major feature film. The facilities – costumes, make-up, dressing rooms, etc. – were not of an appropriate level or size for a team to work in."
Mr Mallin told Mr Boyd that he had not revisited the studio and therefore did not know if soundproofing had been carried out.
Mr Boyd replied: "It would be a difficult thing to do in four weeks and very, very costly."
The assistant director said the amount of work involved in preparing the production "took eight weeks in one fell swoop," adding, "You can build a house in four weeks, but it could collapse in two weeks."
Ms Green said Tuesday she did not want to work with executive producer Jake Seal and his team but had not broken her contract.
In text used in White Lantern Film's allegation, Ms Green called Mr Seal "evil," a "sneaky sociopath," "pure vomit," and "a liar and a lunatic."
Mr Boyd, who has worked in film and television since 1990, told the court: "After dealing with Mr Seal … I found him quite sneaky. I've been doing this for a long time and you can smell the rats, so to speak.
"I felt like he wasn't doing his job the way one would expect."
The trial is expected to hear evidence from Ms Green's agents on Friday, with a decision on the case expected at a later date.