FA 'strongly condemns' Aaron Ramsdale attack as Tottenham vow to ban fan
The Football Association has "strongly condemned" the incident that saw Arsenal goalkeeper Aaron Ramsdale attacked by a fan after his side's win over Tottenham in the north London derby.
A spectator jumped onto the advertising board behind the goal after Arsenal's 2-0 win and tried to kick Ramsdale in the back.
A statement from the FA said: "We strongly condemn the incident involving a spectator following today's Premier League match between Tottenham Hotspur and Arsenal.
"This is totally unacceptable behavior and we will work with the police, relevant authorities and clubs to ensure that the appropriate action is taken."
Tottenham said they had already reviewed CCTV footage to identify the supporter and would take the "strongest possible action", including an "immediate" stadium ban.
"We are appalled by the behavior of a supporter who tried to tackle Arsenal goalkeeper Aaron Ramsdale at the end of today's game," the club said in a statement.
"Violence in any form has no place in football."
After the game, Ramsdale told Sky Sports: "The Spurs fans gave me something in the second half, I gave them something back, which for the few people I did it to was probably well greeted, sportingly.
"Then a fan tried to jump over and give me a little smack on the back. That's what happened and it's a shame because at the end of the day it's just a football game.
"I think both groups of players tried to get me away. Thank god nothing too drastic happened. It's a bitter taste but I'm sure we'll enjoy it when we go back to the dressing room."
Arsenal manager Mikel Arteta, who claimed not to have seen the incident, was asked if he was concerned players could be attacked so easily.
"We'll take care of it," Arteta said. "There's nothing we can do at the moment. I don't want this to take away 0.0001 percent of the joy and contentment that we have in this moment. We will take care of it tomorrow."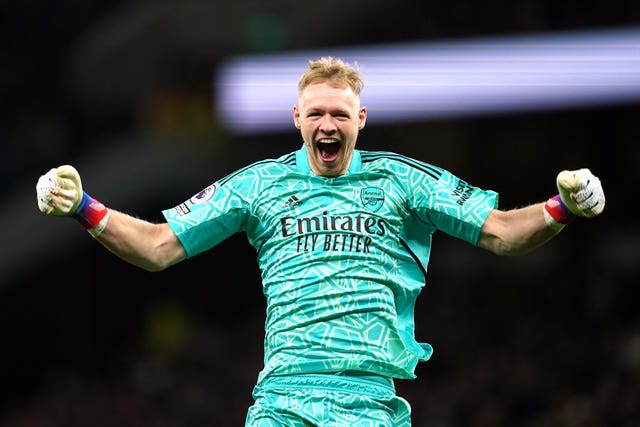 Tottenham boss Antonio Conte said: "If it happens, that kind of situation is not good.
"Always being able to show respect is better for the opponent, for the players, at any moment. When it happened, I didn't like it."
Tottenham defender Eric Dier, who was suspended for four games in 2020 for marching into the crowd to confront an abusive bystander after an FA Cup defeat by Norwich, called the Ramsdale incident "unacceptable".
He told Sky Sports: "I haven't seen it but obviously it's really just unacceptable. There is nothing more I can say except that it is unacceptable and should not have happened."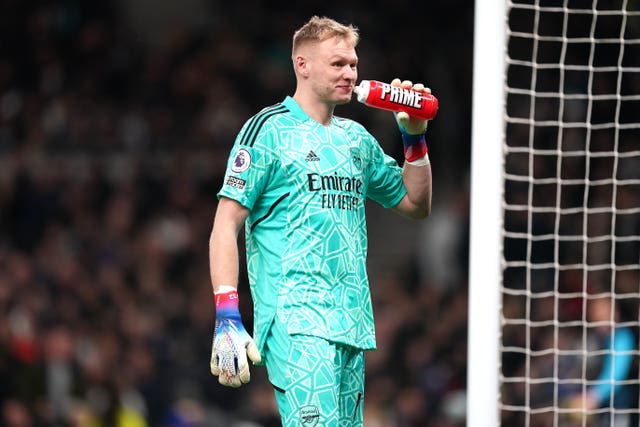 A Premier League statement said: "The Premier League condemns the behavior of a fan at the end of tonight's game between Tottenham Hotspur FC and Arsenal FC.
"There is no place for violence in football and under no circumstances should players be attacked or fear for their safety at matches.
"The league will support the clubs and the responsible authorities in taking as decisive action as possible against those responsible."
After the incident, the professional football association's Twitter account said: "Violence against players is completely unacceptable. Such incidents happen far too often.
"Players have a right to be safe in their workplace. If a player is attacked, we expect that applicable laws and regulations to protect them will be properly enforced.
"As a players' union, we treat that as a priority. We will continue to work with authorities to demand that players and staff be better protected in their workplace."
Ex-Spurs midfielder Jamie Redknapp, who works as a Sky Sports pundit, said: "For the Spurs fan, this is totally unacceptable.
"It's part of football, you're always going to take a little hit. But when a fan comes and does that, comes and tries to kick a player who played on the pitch, that's totally unacceptable.
"I'm sure Spurs will act accordingly. He shouldn't be allowed in a football stadium, this guy. It's completely out of order."