Fresh travel misery for rail passengers as train drivers strike again
Rail travelers face fresh travel chaos on Friday as another strike by train drivers will shut down large parts of the country throughout the day.
Members of Aslef and the Railway, Shipping and Transport Union (RMT) will pull out of a longstanding dispute over wages and working conditions.
Train operators warned of serious disruption as trains running later start later and finish much earlier than usual – usually between 7.30am and 6.30pm.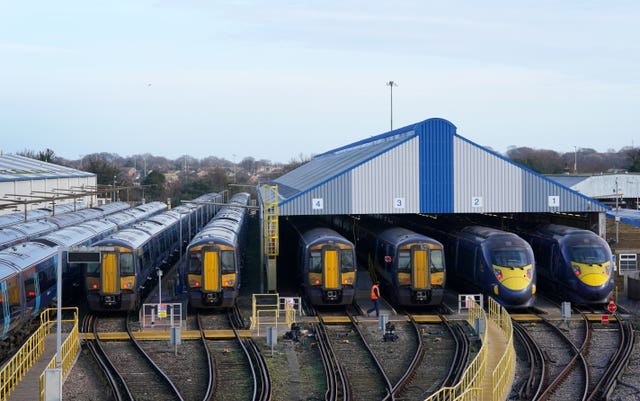 It is likely that Thursday evening and Saturday morning traffic will be impacted on some lines due to the rolling stock not being in the correct depots.
The rail industry said it was working hard to keep so many trains running and criticized the rejection of an offer that would give drivers an 8% pay rise over two years, taking average salaries from almost £60,000 a year to almost £65,000 £ would rise.
Simon Weller, Aslef's deputy general secretary, said the dispute was "going backwards" because no progress had been made in talks that had lasted for months.
He told the PA news agency: "I don't know whether to blame the incompetence of the Department for Transport or the Rail Delivery Group.
"We would have difficulty recommending a pay rise of 4% last year and 4% this year if there were no strings attached, but we are being urged to abandon collective bargaining and effectively agree to a ban on strikes.
"Obviously it should be rejected – it should fail."
Mr Weller said attitudes among Aslef members were "hardened" but he believed the fault lay squarely with DfT and train operators.
He claimed the latest offering would add a "significant" number of contract hours to a train driver.
On whether Sunday work should be compulsory, he said: "We were willing to include Sundays in the working week, but companies find it cheaper to make drivers work overtime on Sundays."
A spokesman for Rail Delivery Group said: "After making an initial offer that would have brought average driver salaries from £60,000 to almost £65,000, we had hoped Aslef leadership would engage constructively to move the talks forward rather than to stage further unnecessary strikes. We can only apologize for the disturbance.
"To minimize the impact of the Aslef action, we advise passengers to inquire before travel, allow extra time and find out when their first and last train departs."
It is the second strike by train drivers this week, after participating in Wednesday's big day of industrial action, which also involved teachers, university staff, civil servants, bus drivers and security guards.
Around 1,900 Unite members who work as bus drivers for Abellio in London will end a three-day strike in a separate pay dispute on Friday.