Blocking Scotland's gender reforms would be 'calamitous', campaigners say
Activists have warned of "disastrous consequences" for trans people and the decentralization regime if the UK government blocks Scotland's gender recognition bill.
LGBTQ+ charity Stonewall has written to Prime Minister Rishi Sunak to express their concerns as the UK Government is considering legal advice on whether to use its powers to prevent the Gender Recognition Reform (Scotland) Bill from being passed in force occurs.
MSPs passed the law by a vote of 86 to 39 last month, approving reforms that would allow trans people to obtain a Gender Recognition Certificate (GRC) without the need for a medical diagnosis.
The bill will also allow 16- and 17-year-olds to apply for a GRC for the first time and would reduce the time a person must live in their acquired gender before being able to obtain the document.
Several reports suggest that legal advice has given Mr Sunak the legal protection he needs to apply a Section 35 injunction to prevent the bill from gaining royal assent.
Stonewall said invoking Section 35 was a "nuclear option" and would trigger a constitutional dispute over the decentralization regime for Scotland and Wales.
In a letter to Mr Sunak, Stonewall chief executive Nancy Kelley and its chairman Iain Anderson spoke out against blocking the legislation.
They said they wanted to "call for caution about the catastrophic consequences for trans people and the decentralization regime that would result from this decision."
They said that the draft law had already been extensively examined and had no interaction with the Equality Act.
Concerns have been raised about the impact the law could have on same-sex spaces, with some critics saying it could put women at risk – an accusation the Scottish Government has repeatedly denied.
In their letter, Ms Kelley and Mr Anderson said: "We have seen that it implies that there is an uncertain impact of the Scottish Gender Recognition Reform Bill on the application of the Equality Act and its provisions on same-sex exceptions.
"That is not true. It does not interact with the Equality Act and the Scottish Parliament voted on an amendment to explicitly recognize on the face of it that it would have no impact on how the Equality Act worked.
"That means nothing will change in the same-sex exceptions in the Gender Equality Act."
They also said that the impact on women and girls had been fully taken into account and that safeguards had rightly and fully been taken into account by Scottish MPs in the process of passing the bill.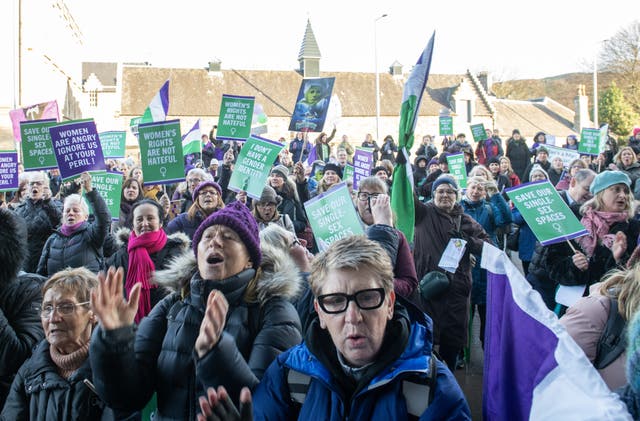 Mr Sunak spoke of his concerns about changes the law would make during a visit to Scotland on Friday.
Downing Street officials said on Saturday the full legal advice given to ministers has not yet been reviewed and no decisions have been made.
In their letter to the Prime Minister, Mr Anderson and Ms Kelley said invoking Section 35 is a "battle that will only do harm".
They also warned that it will "send a strong and clear message to trans people and those who love and care for them that this government views trans people as a threat that needs to be addressed and does not respect or value trans citizens." .
The Scottish Government says it will "vigorously" challenge any moves to challenge the bill under the Scotland Act.
A UK Government spokeswoman said: "We share the concerns others – including the Equality and Human Rights Commission and the UN Special Rapporteur on Violence against Women and Girls – have about the law, particularly on safety issues for women and children .
"We are looking closely at these issues and also at the implications for the Equality Act 2010 and other UK legislation.
"Our concerns include the protection of same-sex spaces and the checks and balances involved in the process of obtaining a legal gender recognition certificate.
"No final decisions have been made yet and we are considering our next steps."