Premiership Rugby to 'relaunch' for 2024-25 after demise of Wasps & Worcester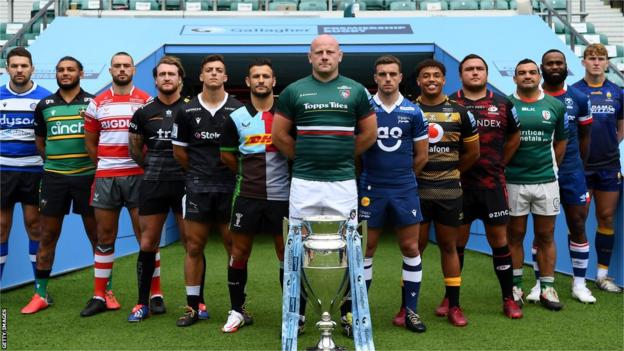 The 2024-2025 season will see a rebirth for Premiership Rugby as the league looks to recover from a turbulent period off the pitch.
It comes after the demise of Wasps and Worcester, with both clubs going out of business in this campaign.
One of the architects of The Hundred in cricket has come on board as the league seeks to re-establish its identity.
"It's essentially a relaunch of the league," Premiership rugby boss Simon Massie-Taylor told BBC Sport.
"We have to start moving towards a new system. It needs to look and feel a little different."
Massie-Taylor added: "Events have moved quickly when it came to Wasps and Worcester which has only compounded the issues we need to resolve.
"The only positive thing about this very sad situation is that it has given further impetus to some changes within the system."
The four key areas of Premiership Rugby
As next season is a 'year of transition' as the English game resolves its structural issues – and it is the final year of the existing Professional Game Agreement (PGA) – Premiership Rugby have identified four key areas of focus for the future:
The establishment of an independent financial oversight board that will oversee all club finances to avoid the fate that befell Worcester and Wasps.

A new Sports Commission, run independently and making decisions on behalf of the league.

Completion of the new PGA, with the greatest focus on the structure of England's professional game going forward and a clear vision of what the second division championship looks like and how promotion and relegation will work.

Commitment to the growth plan, aiming to continue to grow the League's fan base, using lessons learned from The Hundred cricket competition to reach new audiences.
The opaque nature of club finances – and a failure to act on a number of warning signs regarding Wasps and Worcester – has forced the league into an urgent reassessment, with Premiership Rugby needing much better access to club accounts – than is in the French professional leagues the case.
"The keywords are financial discipline," explained Massie-Taylor.
"We need much more regular reporting and you need a system where you have regulations that create better discipline.
"But it is also future-oriented. Clubs have supported this and see the need for this and we are in the process of hiring an independent Chair who will conduct a full review and make detailed recommendations.
"In the meantime, we have better financial information to address some of the near-term issues that may arise in the current economic environment."
Meanwhile, the sports commission would "simplify decision-making" to avoid the conflict that has hampered decision-making.
The commission would consist of three independent figures, including a recently retired player, and an independent chairman.
"We're trying to be a little lighter in our decisions and eliminate the conflict," Massie-Taylor said.
"Clubs recognize all of this and many of them have been pushing for change for some time and we are taking this opportunity to do this right."
Restore ascent and descent
As it stands there is no promotion and no further relegation from the Championship this season, although next season remains up in the air as the Premiership currently consists of 11 teams after Wasps and Worcester were relegated to join administration walk.
Either way, strengthening the second division to ensure a stable promotion and relegation system in the future is now a priority.
"There's an extreme willingness to have a more aligned second tier because we believe that will help growth," Massie-Taylor said.
"How that works is a topic of conversation at the moment and linked to that is what happens next season in terms of promotion and relegation because of course we have to inform our Championship colleagues about the rules of engagement.
"They want a championship that clubs are more comfortable with being relegated. And you also want something where Wasps and Worcester become a successful club again – because we want Wasps and Worcester back in the Premiership."
In terms of commercial growth, Rob Calder – former Commercial Director of The Hundred – has joined Premiership Rugby as Chief Growth Officer as the league seeks to build its fan base and begin a new chapter in its history.
"He was one of the architects [of The Hundred] and was in the room when they put it all together," Massie-Taylor explained.
"He understands the challenges we are trying to solve. The 2024-2025 season is the opportune moment to establish who we are and that's part of his job."