Dominic Raab: Karate black belt under spotlight over bullying claims
Dominic Raab's political survival is at stake as he is investigated over a range of bullying allegations.
Appointed by Rishi Sunak as his deputy and justice minister, scrutiny of Mr Raab's behavior is a headache for the prime minister, who took over the top job and pledged "integrity, professionalism and accountability at all levels".
Mr Sunak is under mounting pressure to explain what he knew about his ally's behavior when he hired him, with reports suggesting he was warned about the bullying allegations, which were considered an open secret at Westminster.
The Prime Minister, whose party is also grappling with allegations linked to Boris Johnson and Nadhim Zahawi, said he hired lawyer Adam Tolley KC to investigate when he learned of "formal complaints" against Mr Raab.
Dozens of officials are believed to have been involved in eight formal complaints spanning four years in three government departments.
Working with Mr Raab caused some to suffer from "mental health crises", according to Dave Penman, chairman of the FDA union, which represents senior Whitehall officials.
However, allies of the cabinet minister have downplayed his behavior as "demanding" and suggested officials should be prepared to work in difficult situations.
Mr Raab, a karate black belt, has denied the claims, insisting he had "behaved in a professional manner throughout".
The 48-year-old, who has been in and out of government for the past eight years, is no stranger to controversy.
He has caused a stir in the past with comments on feminism and squats and was demoted by the foreign minister after widespread criticism of his handling of the Afghan crisis.
Before turning to politics, Mr Raab was a lawyer in the Foreign Office and was elected MP for Esher and Walton in 2010.
His political career suffered an early setback when Theresa May took offense at his description of some feminists as "obnoxious bigots" in a 2011 article in which he attacked the "equality move" and said men were getting "a bad deal".
In 2018, Ms May appointed Mr Raab as Housing Secretary and later that year promoted him to Brexit Secretary, although he dramatically resigned within months in protest at the then Prime Minister's Brexit policies.
During his unsuccessful run in the race to succeed Ms May as party leader in 2019, Mr Raab played up his image as a hard Brexit man to win support from the Tory right.
During the competition, he said he "probably wouldn't" call himself a feminist, even though he was "anything for working women who make the most of their potential."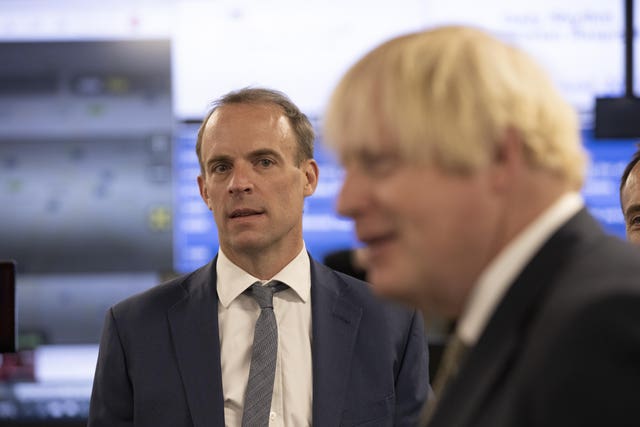 He sided with Boris Johnson after his exit from the competition and was rewarded with promotion to Foreign Secretary and first Foreign Secretary.
When the then Prime Minister was hospitalized with coronavirus in 2020, Mr Raab effectively led the government through some of the pandemic's darkest days – a role later formalized with the title of Deputy Prime Minister.
In 2020, at the height of Black Lives Matter protests, the married father of two suggested "taking the knee" was a symbol of submission that had its origins in TV drama Game Of Thrones, adding , he only kneels for "the queen and the missus when I asked them to marry me".
Mr Raab's tenure as Foreign Secretary was marred by allegations that he was "missing in action" during the UK's chaotic evacuation from Afghanistan.
He was vacationing in Crete in August 2021, as the Taliban swept across the country, and was seen relaxing on a beach on the Greek island as members of the militant group entered Kabul, though he insisted, with officials and fellow ministers to be in contact.
A Foreign Office whistleblower also claimed that Mr Raab once "refused to make a decision" on whether to include a group of women's rights activists "without a properly formatted submission".
A subsequent demotion in September 2021 made him head of the Department of Justice (MoJ).
He came under fire again last year for being on holiday amid a crisis, with criminal lawyers voting for a full-scale strike while he was holidaying in Surrey with his family. Again, aides insisted he was in regular contact with MoJ officials.
When Mr Johnson's prime minister's post dissolved last summer and a number of ministers resigned, Mr Raab remained loyal to the scandal-plagued prime minister.
But as soon as Mr Johnson was out the door, Mr Raab threw his back behind Mr Sunak, a move that later saw him become the most prominent victim of Liz Truss' reshuffle.
But his support for Mr Sunak paid off when the latter replaced Ms Truss in No 10 in October, rewarding his ally with his familiar roles as justice secretary and deputy prime minister.
It's a move Mr Sunak, who was trying to restore stability to the Conservative Party, may regret as questions about Mr Raab's conduct continue to surface.
Some MoJ staff were reportedly concerned when he returned to his post, and it was said he was given the opportunity to switch roles.
Antonia Romeo, the department's senior officer, is said to have warned him about the need to treat staff professionally and with respect.
As justice minister, his controversial attempt to overhaul human rights legislation was condemned by critics as "a systematic undermining of important legal protections".
The Bill of Rights – which would replace the Human Rights Act enshrining the European Convention on Human Rights in the UK – would add a "healthy dose of common sense" and curb "abuse" of the system, Mr Raab said.
The son of a Czech-born Jewish refugee fleeing the Nazis in 1938, Mr Raab grew up in Buckinghamshire and studied law at Oxford University before moving to Cambridge for his Masters.
He competed in karate for 17 years, winning two British Southern Region titles and becoming part of the British squad.
Mr. Raab also enjoyed boxing at university and says it was "pretty good to prepare me for other big moments" although "I've never had such a racket of nerves".
The senior Tory denied claims by his former diary secretary in 2018 that he insisted on the same Pret A Manger lunch every day.
The "Dom Raab Special" apparently consisted of a Chicken Caesar and Bacon Baguette, Superfruit Pot and a Vitamin Volcano Smoothie.